Nicolas Anelka: Romelu Lukaku apologises for Anelka comments
Last updated on .From the section Everton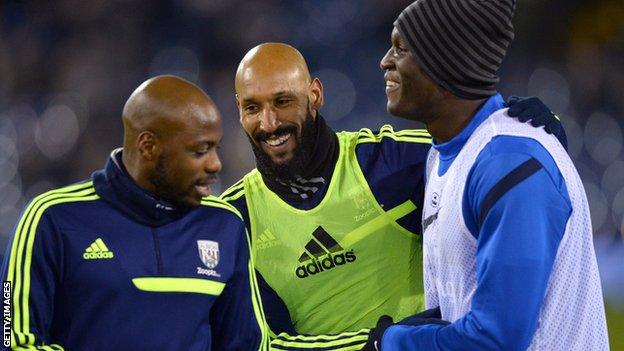 Romelu Lukaku has apologised for any offence caused by comments he made in support of Nicolas Anelka.
Anelka has been charged by the Football Association for the gesture, which can be perceived as anti-Semitic.
"I apologise if I caused any offence with my comments as this was never my intention," said the Chelsea forward.
In his statement, issued through anti-discrimination group Kick It Out, for whom he is an ambassador, Lukaku added: "I want to make clear that I was supporting a friend and player I have admired since I was a child.
"There has been a misunderstanding and I want to clarify that I was in no way endorsing the gesture made by Nicolas."
Kick It Out added: "Romelu has clearly stated that he had no intention to support the gesture made by Anelka.
"The campaign continues to work with Romelu... and will look to guide him, in partnership with community organisations, on the sensitivity of issues covering all forms of discrimination moving forward."
Lukaku made his initial comments following Monday's 1-1 draw at The Hawthorns.
"I don't think he should be banned, he was just supporting a comedian in France. We don't have to make such a big deal about it," said the Belgian at the time.
Everton manager Roberto Martinez had earlier defended Lukaku.
"All he wanted to present was a bit of support for a player he has admired from a young age," said Martinez. "He never supported his views."
Anelka performed the "quenelle" gesture after scoring in December's draw at West Ham, but later said he was supporting French comedian Dieudonne M'bala M'bala, who uses it as a trademark.
His actions could land him a five-match ban if found guilty by the FA and have drawn widespread criticism from campaign groups and French politicians.
He had until 18:00 GMT on Thursday to respond to the charge.