Swansea City in top 50 richest clubs in world football
Last updated on .From the section Football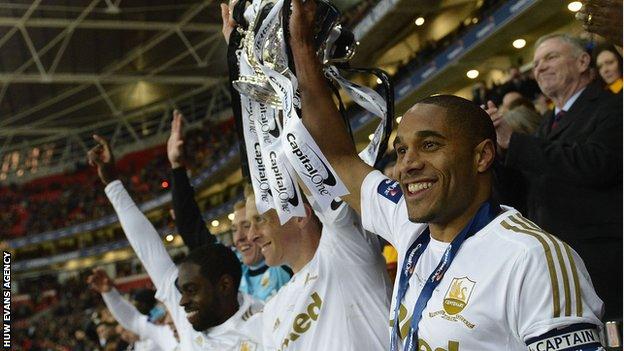 Swansea City are one of the top 50 revenue-generating football clubs in the world, according to a new report on the sport's wealthiest teams.
BBC Wales has also learned that Cardiff City are expected to gain a place in the top 50 next year.
The Deloitte Football Money League for the 2012/13 season puts the Swans among the leading 50 global elite.
BBC Radio Wales's Wales@Work has learned that Swansea are predicted to be in the top 40 next year.
Swansea have been in the Premier League for the last three seasons, while Cardiff are in their first season in English football's top flight .
Part of the revenue is the result of more money from enhanced Premier League broadcast deals.
Swansea are also benefiting after winning the Capital One Cup last season, which qualified them for the Europa League.
The Liberty Stadium team are reaping the benefits of at least six home games against European opposition having reached the group stage, and they will receive at least £3.5m from qualifying for the knockout phase of the Europa League.
Both Cardiff and Swansea will be boosted by Premier League broadcast revenue of at least £60m each.
The Money League report puts Real Madrid top for a record ninth year in a row, with revenue of 518.9m euros (£444.7m).
Real's Spanish rivals Barcelona are second, and European champions Bayern Munich have overtaken Manchester United to move into third place. Five other Premier League teams - Manchester City, Chelsea, Arsenal, Liverpool and Spurs - are in the top 20.
The total combined revenue for the top 20 clubs is up 8% to 5.4 billion euros.