FA Cup: Phil Brown's journey from Hull City to Southend United
By Chris Osborne
BBC East Sport
Last updated on .From the section Football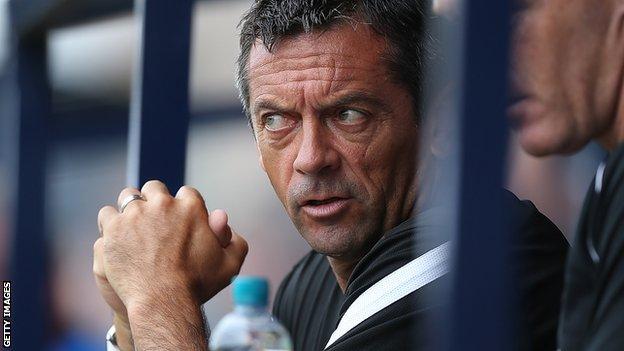 Phil Brown's summer of 2013 involved, among other things, fixing fuses in a converted Southend nightclub.
Five years earlier, he had engineered the unlikely rise of Hull City to the Premier League. Life at Southend United, who face the Tigers in the FA Cup fourth round on Saturday, was never going to be as electric.
"This is grandiose compared to what it was," Brown says, admiring his surroundings from a yellow-tinted room buried in the sole building at Southend's training ground.
The facilities remain humble - as glossy as a League Two budget can allow. But Brown, the former Derby, Hull and Preston manager, is a resourceful man.
In the summer, two months after replacing Paul Sturrock as Shrimpers boss, the trained electrician was tooling up.
"We flipped it on its head. The physiotherapist department was upstairs," he said.
"The first thing I witnessed was Neil Harris going up the stairs on a set of crutches - it was just crazy.
"But I then found a dumbwaiter - one of those lifts that takes food up and down. This place used to be a nightclub and the catering used to be upstairs.
"I got my electrical head on and fixed a couple of fuses and got the dumbwaiter working again. So now the food is upstairs and the physio is downstairs."
The 54-year-old took Hull to the Premier League for the first time in their 104-year history - he rattles off the stat like it might be written on his bedroom ceiling; the first thing he sees every morning.
But those who run football clubs can have short memories. Less than two years after that promotion he was placed on gardening leave and eventually discarded.
He then lasted less than a year in charge at Preston and spent 14 months out of the game, swapping the touchline for commentary boxes as jobs never came his way.
Football could easily have subdued Brown, beat him into submission through a few years of pummelling blows.
"Upon reflection it's a learning curve. When you're out of the game you're out for a reason," he told BBC Sport.
"Invariably, you're to blame. It can't be anybody else's fault - how can it?
"Players make mistakes on the field and it costs managers their jobs. But at the end of the day you're responsible for bringing those players in, picking sides, tactics and if you ride your luck every so often you'll stay in a job longer.
"I'm looking long-term as far as Southend is concerned. I've got a job to do here."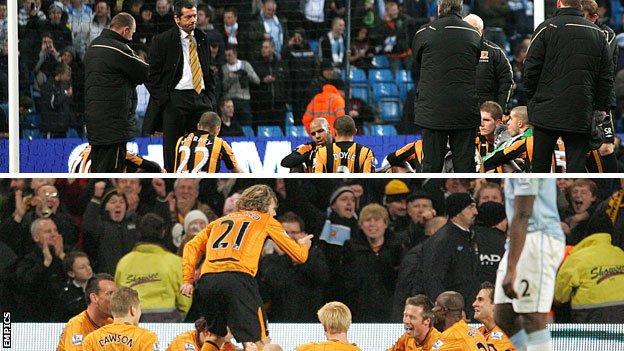 Brown is aware that from the moment his current club were drawn to face his former employers at Roots Hall, the attention would be less on the game and more on history.
Making his Hull players endure a half-time dressing down on the pitch at Manchester City on Boxing Day 2008 is one moment that follows Brown around, inseparable from his achievements.
Serenading supporters with a rendition of the Beach Boys' Sloop John B after securing Premier League survival in 2009 is another.
Jimmy Bullard, who played under Brown at Hull, once re-enacted the public admonishment of his team-mates as a goal celebration. A devilish send up of the manager he has so much affection for.
"I think a lot of people have been narrow minded when it comes to Phil," said Bullard,
"He's only singing back to the fans? What's the big deal? I found it brilliant and refreshing that a manager had the balls to do that. But there aren't a lot of people like Phil."
A play-off final victory, beating Arsenal in their own yard, Premier League survival - yet all everyone wants to bleat on about is a sing song and a telling off.
"It's water off a duck's back to me now. It was water off a duck's back at the time," said Brown.
"But it does sort of stay with you, for the wrong reasons. They don't talk about the win at the Emirates, they don't talk about the win at Wembley, the 104-year history. They just want to talk about half-time team talks.
"Many a time people sit down in front of me in public places, and I'm thinking 'what is that all about?'. But at the end of the day, it is what it is. It's got nothing to do with Saturday."
Except it does. A little bit.
Hull, now managed by Steve Bruce, are back among the top-flight heavyweights in English football, while Brown is resurrecting a career in the lowest echelon of the Football League.
Saturday's game is, at the very least, a marker of where club and man have wound up since.
And Brown, raised in South Shields, is making the most of what is in front of him, building a Southend side that are genuine promotion contenders from League Two and now smell a chance of an FA Cup upset.
"Whatever you do you're responsible for and the cards were dealt and I was out of the game for 14 months," he said.
"Then Southend chairman Ron Martin, who had offered me the job three years before, offered me it again.
"I came to this division to get my hands dirty. I'm on the training ground every day, but I have been since I started.
"I want to show these guys I'm willing to come to League Two to get my reputation, or CV, back on track."
Bullard, who played during Brown's final 12 months at the KC Stadium, added: "The biggest thing I noticed about Phil was his drive to be a top manager. He had so much determination and ambition.
"I've never met a manager with more ambition than Phil. He gets some bad press with the funny stuff - but that's Phil. He does it his own way."
The Phil Brown way is different these days. A tamer approach. Less bluff and bluster.
Hull City fans may see a different beast when they make the 200-mile trip from the banks of the Humber to the mouth of the Thames on Saturday.
"I have mellowed. I have changed. I wouldn't say softened, but I don't react as much as I used to," said Brown.
"Subconsciously, or from the experiences that you've witnessed, you stand back and think 'maybe not that again'.
"Half-time team talks are off the agenda at the moment."