Ally McCoist: Stenhousemuir's John Gemmell in trouble over rant
Last updated on .From the section Football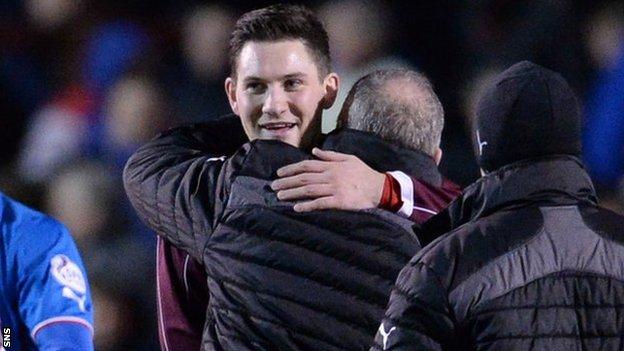 Social media criticism of Rangers manager Ally McCoist has landed Stenhousemuir striker John Gemmell in trouble with the Scottish FA.
The 29-year-old has been issued with a notice of complaint by SFA compliance officer Vincent Lunny.
Gemmell is accused of making offensive comments on Twitter and will face a principal hearing on 13 February.
He had been responding to McCoist complaining about the number of games over the festive period.
McCoist had said that it was unfair for Rangers to be asked to play four matches in 11 days, three of them away from home.
Gemmell, who revealed himself as a Rangers season-ticket holder, said it was "embarrassing" that the club's manager should be complaining about fixtures against part-time teams like his own.
However, the pair shook hands and embraced after
The League One leaders' manager later claimed that his main gripe had been that his club's fans were having to travel so much at that time of year.
"I get called worse in the house to be honest with you," McCoist said. "It was probably a bit ill-judged, but I'm certainly not going to throw the toys out of the pram.
"He said to me: 'You know what I meant, didn't you?' To which I replied: 'Not really!'
"But it doesn't matter. We are all big boys and we just get on with it."