Nicolas Anelka: West Brom striker denies FA 'quenelle' charge
Last updated on .From the section West Brom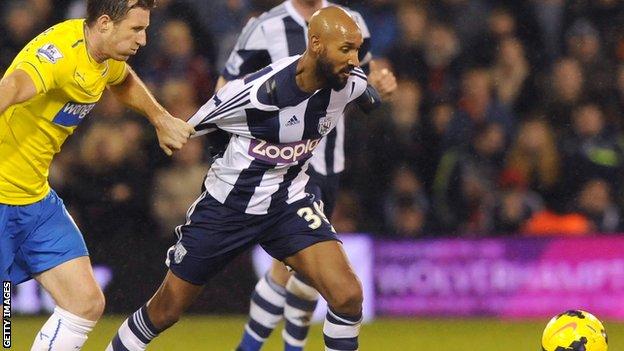 West Bromwich Albion striker Nicolas Anelka has denied a Football Association charge brought against him for performing a 'quenelle' gesture.
Anelka made the sign, which some believe is anti-Semitic, during the 3-3 draw at West Ham in December.
If found guilty of making a gesture that is "abusive and/or indecent and/or insulting and/or improper", Anelka will face a minimum five-game suspension.
The 34-year-old has requested a personal hearing, at a date to be set.
On Wednesday, the former Arsenal, Manchester City, Real Madrid and Liverpool forward asked the FA to lift the charges, stating he was "neither anti-Semitic, nor racist".
The Baggies, who asked Anelka not to repeat the celebration but continued to select him, said they would be making no comment on his decision to deny the charge.
The minimum five-game ban Anelka could face was introduced by the FA after high-profile cases involving Liverpool's Luis Suarez and Chelsea's John Terry.
In addition to being suspended, Anelka is likely to also be fined if found guilty by a three-man panel.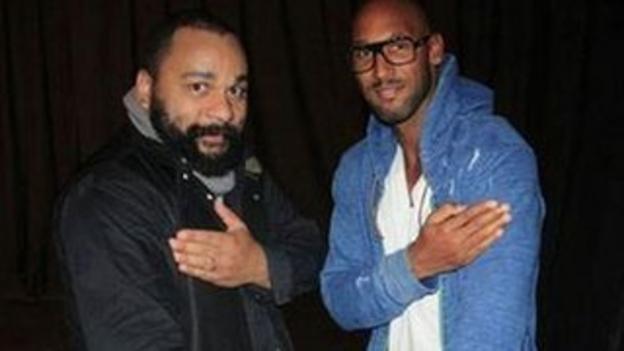 Anelka made the gesture after scoring in the draw at Upton Park, with France's sports minister Valerie Fourneyron subsequently branding the sign "disgusting."
He claimed his action was designed purely as a show of support for controversial French comedian Dieudonne M'bala M'bala, and suggested the salute could be perceived as "anti-establishment", rather than discriminatory.
Asked whether the gesture was anti-Semitic, racist or was an inverse Nazi salute, as has been suggested, Dieudonne, a friend of Anelka's said: "No, obviously not.
"In France it means simply a gesture against the system, and then after time it became a gesture of emancipation.
"Many Africans like me, descendants of slaves, it's for self-liberation. There's no hint of racism."
The FA consulted an expert on the meaning of the gesture before charging Anelka.
"It would have been legitimate if this expert had been French, living in France and with an exact understanding of my gesture," Anelka wrote on his Facebook page.
As a result of the incident, property company Zoopla announced on Monday that they would end their two-year shirt sponsorship deal with West Brom.
A host of other companies in business with the Midlands club are considering their options, while anti-racism campaign groups such as Kick It Out have been critical of Anelka.
Until the hearing he will remain eligible to play for West Brom, who face Aston Villa next Wednesday.