CHAN 2014: Caf to look at regulation changes
By Andrew Jackson Oryada
BBC Sport, Cape Town
Last updated on .From the section Football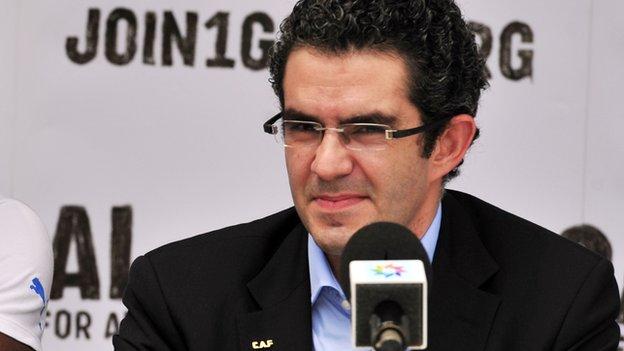 The Confederation of African Football says it will introduce new rules for future Africa Nations Championship (CHAN).
"We shall make sure nations that host the CHAN event suspend the League for the entire time," Caf's secretary general, Hicham El Amrani, said.
The Premier Soccer League has continued in South Africa as they host the current CHAN, the tournament for locally-based players.
South Africa, who were knocked out in the group stages, were unable to field their strongest team as clubs refused to release all their players.
"And teams that refuse to allow their players to feature for the national team in that host country will have those players suspended," Amrani added.
"We are going to sit as Caf and make certain tough decisions on future hosts because this will help the championship to be better organized.
"It will also ensure we have a high level of competition instead of some teams undermining it."
Rwanda are due to host the 4th edition of CHAN in 2016.
South Africa's poor performance on home soil has drawn criticism from several quarters including the country's sports minister Fikile Mbalula.
El Amrani added that Caf are happy with the performance of newcomers likes Mauritania and Mozambique.
"This is very good for the tournament which is helping develop African football," he added.
He also feels that the level competitiveness at the 2014 CHAN has improved since the inaugural event in Ivory Coast five years ago.
"This level of play is much higher and the organizing by South Africa is very good," he said.
Mvuzo Mbebe, the CHAN Local Organizing Committee chief executive, has urged fans to come and watch the knock-out stage of the tournament.