Juan Mata: Winner and losers in move from Chelsea to Man Utd
By Alistair Magowan
BBC Sport
Last updated on .From the section Football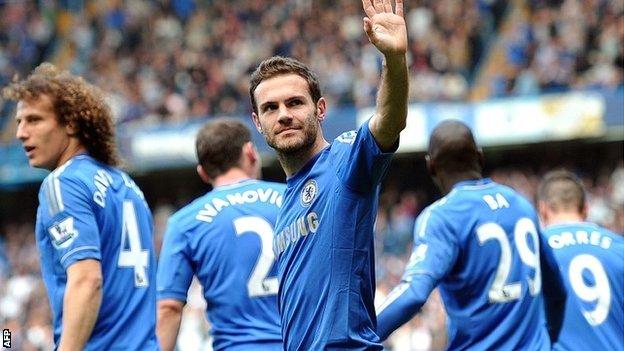 After a season which has lurched from one disaster to another, the capture of Juan Mata has finally given Manchester United fans something to cheer about.
Chances of silverware appear slim and the race for a place in next season's Champions League has now become crucial.
The move certainly improves United's chances of reaching the Premier League's top four and instantly boosts their attacking options, while signalling that boss David Moyes can sign world-class players.
On the other hand, Chelsea have sold one of Europe's best players - but did they cash in at the right time?
With the help of former Blues winger Pat Nevin, BBC Sport looks at the winners and losers in the £37.1m deal.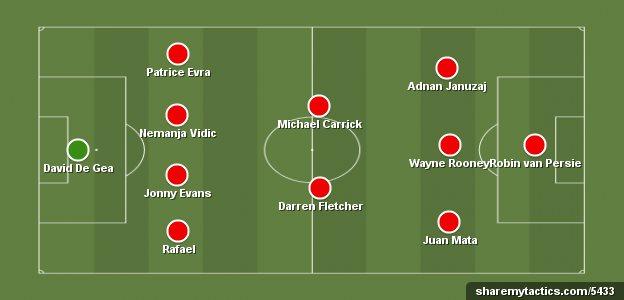 Winners
Juan Mata
To say Mata is a beneficiary seems obvious, but this is a player who has gone from being Chelsea's player of the year in the past two seasons to making only 11 Premier League starts this term, completing 90 minutes just once.
With the World Cup in Brazil looming, the 25-year-old Spain international knows he is battling against a host of world-class rivals to make it onto the plane, let alone the starting XI, so he cannot afford to sit on the bench.
Mata's growing frustration was clear to see when he was substituted against Southampton on New Year's Day and, although he has had an excellent relationship with the Chelsea fans, a desire for first-team football has ultimately seen him look elsewhere.
Only Manchester City's David Silva has created more chances in the Premier League over the past three seasons, and Mata could yet show another side to his game by galvanising a struggling Manchester United team.
"Mata is a David Moyes person," Nevin told BBC Sport. "If you look at the kind of players who worked with him at Everton and, to some degree, Preston they are honest and hard-working. If there is creativity on top of that, fantastic."
Manchester United's creativity
The issues for last season's Premier League champions have been all across the pitch this term, but Mata's arrival will at least restore a creative spark to a team which has sorely missed injured strikers Robin van Persie and Wayne Rooney. An attacking quartet of Mata, Rooney, Van Persie and Adnan Januzaj is an enticing prospect.
United's scoring rate has dropped from 2.26 goals a game in the Premier League last season to 1.64 this term.
And, with Mata creating an opportunity every 28 minutes over the past two seasons, there is plenty of evidence that he can improve United's supply line.
Even with Van Persie and Rooney out, Nevin believes Mata will improve players around him.
"A player like Javier Hernandez will make the right runs if he believes that someone is going to put the ball in there," said Nevin. "And when Juan Mata is on the ball, he will see those runs and be able to time the right pass."

David Moyes
It is clear that Ferguson managed to extract far more from a squad who now look listless under their new manager.
Critics now look back to a summer where Moyes failed to bring in players in his own mould, hungry to compete for him. The last-minute signing of Marouane Fellaini appeared desperate and the Belgium international has hardly done much to convince he will become a United great.
At least Moyes can now claim he has the ability to recruit a player of world renown who can hopefully lift the team in the same way that Mesut Ozil did for Arsenal earlier this season and Van Persie did for United last term.
There will be a lot riding on the move, however. And if Mata does not find his feet quickly you can bet that fingers will point in Moyes's direction rather than towards the Spaniard.
Wayne Rooney
Mata's arrival signals several options for Wayne Rooney and in most of them he seemingly stands to gain.
With both preferring a number 10 role behind a striker, speculation has mounted that the Spaniard's switch could see Rooney moving the other way.
Chelsea boss Jose Mourinho courted Rooney last summer and will be acutely aware that the England striker has only 18 months left on his contract.
But Rooney, who has been United's best player this season, could use that as a bargaining chip. He has already opened talks over a new deal that could keep him at Old Trafford for the rest of his career and make him the highest paid player in United's history.
And if he does stay there is nothing to say that he and Mata cannot forge a deadly partnership behind Van Persie.
Ed Woodward
While Moyes is still learning the ropes as United manager, there are some that regard vice-chairman Ed Woodward as equally inexperienced.
His banking background means that he does not have the football knowledge of former chief executive David Gill, who was a Ferguson stalwart.
The calamitous way in which Fellaini was bought from Everton last summer, where United missed out on his £23.5m release clause to pay £4m more, highlighted the issue.
But given that Mourinho said previously Mata was not for sale, it seems that bringing in a third-party to seal the deal was a bold and necessary move.
It will certainly improve his stock and ultimately improve Manchester United's share price after a recent slump.

Jose Mourinho
On the face of it, letting Mata go looks a strange choice by Chelsea, but they will stand to gain about £14m profit after the Spaniard arrived from Valencia for £23.5m in 2011. Mourinho said it was a "fantastic" offer from United.
The £37.1m will also help the club finances given that they reported a £49.4m loss for last year with Uefa's Financial Fair Play rules beginning to take hold.
Such is Mourinho's masterly status, though, that he seems able to put a further spin on it by claiming Mata's sale could do damage to Chelsea's title rivals.
He may have a point. Manchester United, who are seventh in the Premier League, have already played third-placed Chelsea twice this season but Moyes's team still have to face leaders Arsenal, second-placed Manchester City and fourth-placed Liverpool.
Could Mata do Mourinho a title-winning favour? Perhaps, but Nevin thinks the deal is a sign of more frugal times at Chelsea.
"If you read a lot of Mourinho's quotes, he consistently says he does not have as much to spend as last time," the Scot says. "He constantly says its a squad in transition and it's £37.1m in the bank that he can spend on players in his own image."
Spain
With Xavi, Andres Iniesta, Sergio Busquets, Cesc Fabregas, Xabi Alonso, David Silva and Santi Cazorla all in contention for Spain's midfield at the 2014 World Cup, coach Vicente Del Bosque is not short of options.
But the defending champions could seal their status as the greatest international team by being the first European side to win a World Cup in South America.
Mata is generally not considered a starter but if Spain are to be successful they will need a fresh squad and strong competition for places from the start in a tough group.
At Manchester City, Spain team-mates Alvaro Negredo and Jesus Navas seem to be adapting well to the Premier League alongside Silva.
Can Mata be the latest Spanish Mancunian to put himself in Del Bosque's reckoning?
Losers
Chelsea's and United's rivals
Arsenal boss Arsene Wenger was quick to question the fairness of the transfer window after Chelsea sold Mata to Manchester United, having already played them twice in the league.
Perhaps he realises that Mata has enjoyed his most prolific form against the Gunners, scoring three goals and setting up two others in the four times he has played them in the Premier League. He also scored his only goal this season in the 2-0 win over Arsenal in the Capital One Cup.
Liverpool, who were known to be chasing Basel's Mohamed Salah, will also not be pleased that the Egyptian forward has appeared to have been pinched from under their noses by Chelsea. Although the Reds refuse to rule themselves out of the race for his signature despite Chelsea agreeing a deal.

Shinji Kagawa
Ferguson signed Kagawa for £12m from Borussia Dortmund in 2012 with the intention of adding a creative link between midfield and attack.
And despite a promising first season, the Japan international has yet to convince Moyes. It may be a case of the Scot seeking to stamp his own authority on the team with a number 10 of his choosing.
Mata's arrival could leave Kagawa on the bench, or worse, seeking an exit route in a World Cup year but that could play into the hands of Moyes, who may want to use the 24-year-old in exchange for reported targets at Borussia Dortmund - Marco Reus or Ilkay Gundogan.
Dortmund boss Jurgen Klopp is still a huge fan of Kagawa, even if Moyes is not.
United's width
Where Mata will play under Moyes has already become a hot topic for United fans.
If all players are fully fit, then it would be hard not to see the Scot continuing with Van Persie up front with Rooney tucked in behind him. The question then arrives about their fellow attackers. Januzaj has excelled this season, playing on the left and in the number 10 role in Rooney's absence.
So Mata could slot onto the right side of a front three behind Van Persie, but does that come at a cost? The Spaniard is left-footed so tends to come inside from the right when he plays there.
Under Ferguson, United were always a team that attacked with width, but with Antonio Valencia again unconvincing on the right this season, it could be a sacrifice Moyes is willing to make.
"Does he fit in with what I would call the typical philosophy of Manchester United? I would say no," former United full-back Gary Neville has said. "Maybe they have to change the philosophy and maybe that's what David Moyes is thinking. Maybe he wants to play narrow wide players and maybe a three in midfield."