Euro 2016: England among top seeds with Germany and Spain
Last updated on .From the section Football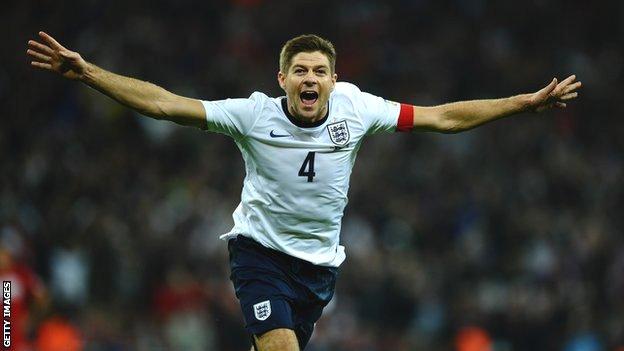 England will avoid Germany and Spain in Euro 2016 qualifying after being named as one of the top seeds.
Italy, Holland, Portugal, Greece, Russia and Bosnia-Hercegovina are the other top seeds in qualifying.
The Republic of Ireland are among the second seeds, with Scotland and Wales among the fourth seeds and Northern Ireland among the fifth.
There will be eight groups of six and one group of five as teams aim to reach the 24-nation finals in France.
The draw will take place in Nice on 23 February.
Seedings are decided by Uefa's coefficient system, which is different to Fifa's world ranking.
France will also take part in qualifying, the first hosts to do so after a rule change, although no qualifying points will rest on their fixtures.
They will play in the finals whatever the outcome of their games.
Explaining the rule change, Uefa president Michel Platini said it was brought in because the hosts, who are normally exempt from qualifying, have found it hard in the past to arrange friendlies.
He added that France will join the group that includes five teams.
Gibraltar, taking part for the first time after being accepted as a Uefa member last year, will be kept apart from neighbours Spain in qualifying to avoid exacerbating political tensions.
Azerbaijan and Armenia will also be kept apart for the same reason, but Russia and Georgia, who do not share diplomatic ties following conflict between the two former Soviet republics in 2008, have agreed to play each other if drawn in the same pot.
There is also a change to the Euro 2016 fixture schedule, with qualifying matches spread over six days rather than being played on just Fridays and Tuesdays.
Uefa secretary general Gianni Infantino said the initiative was good news for fans, broadcasters and national associations.
Qualifying pots for Euro 2016 draw:
Pot 1: Spain (holders), Germany, Netherlands, Italy, England, Portugal, Greece, Russia, Bosnia-Hercegovina
Pot 2: Ukraine, Croatia, Sweden, Denmark, Switzerland, Belgium, Czech Republic, Hungary, Republic of Ireland
Pot 3: Serbia, Turkey, Slovenia, Israel, Norway, Slovakia, Romania, Austria, Poland
Pot 4: Montenegro, Armenia, Scotland, Finland, Latvia, Wales, Bulgaria, Estonia, Belarus
Pot 5: Iceland, Northern Ireland, Albania, Lithuania, Moldova, Former Yugoslav Republic of Macedonia, Azerbaijan, Georgia, Cyprus
Pot 6: Luxembourg, Kazakhstan, Liechtenstein, Faroe Islands, Malta, Andorra, San Marino, Gibraltar