Euro 2016 qualifying: Scotland in fourth pot
Last updated on .From the section Football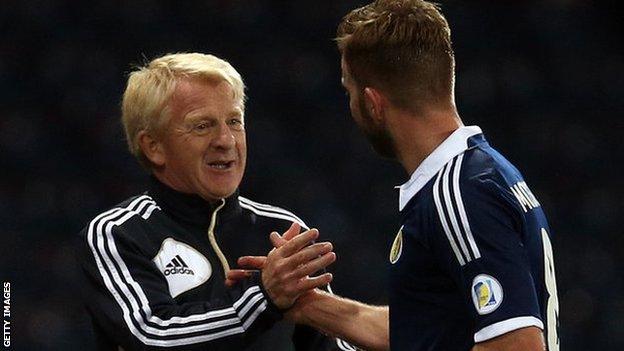 Scotland will be among the fourth seeds for the forthcoming Euro 2016 qualifying draw, governing body Uefa has confirmed.
The Scots will not be drawn along with Wales, who were in the same World Cup qualifying group, as they are also among the fourth seeds.
Republic of Ireland in the second and Northern Ireland in the fifth.
The draw will take place in Nice on 23 February.
There will be eight groups of six teams and a ninth group of five teams, with 23 sides qualifying to join hosts France in the tournament finals.
Uefa's seedings are decided by its own coefficient system, which is different to Fifa's world ranking.
Spain, Germany, Italy, Netherlands, Portugal, Greece, Russia and Bosnia-Herzegovina are the other top seeds.
As well as Wales, Scotland will avoid being drawn with Armenia, Poland, Finland, Latvia, Bulgaria, Estonia and Belarus, who are all also in the fourth-ranked sides.
For political reasons, Azerbaijan are kept apart from Armenia in the draw, while Spain will be in a different group from Gibraltar.
There had initially been concerns over Russia and Georgia, but both associations have stated they are happy to play against each other.
Uefa also announced that the hosts France will play friendly matches against the countries in the five-team ninth group - but these games will not count towards qualifying points.
Pot 1: Spain, Germany, Italy, England, Holland, Portugal, Greece, Russia and Bosnia-Herzegovina.
Pot 2: Ukraine, Croatia, Sweden, Denmark, Switzerland, Belgium, Czech Republic, Hungary, Republic of Ireland.
Pot 3: Serbia, Turkey, Slovenia, Israel, Norway, Slovakia, Romania, Austria, Poland.
Pot 4: Montenegro, Armenia, Scotland, Finland, Latvia, Wales, Bulgaria, Estonia, Belarus.
Pot 5: Iceland, Northern Ireland, Albania, Lithuania, Moldova, Former Yugoslav Republic of Macedonia, Azerbaijan, Georgia, Cyprus.
Pot 6: Luxembourg, Kazakhstan, Liechtenstein, Faroe Islands, Malta, Andorra, San Marino, Gibraltar.