Celtic's Neil Lennon dismisses Lee McCulloch claim
Last updated on .From the section Celtic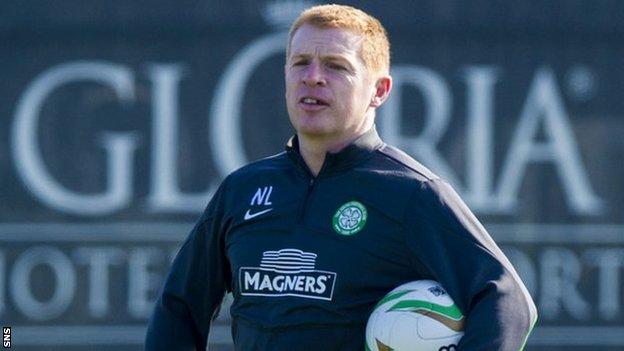 Celtic boss Neil Lennon has dismissed Rangers captain Lee McCulloch's
The Ibrox side are 20 points clear and undefeated at the top of Scotland's third tier.
"I can't really draw a comparison because I have never worked or played at that level," said Lennon.
"But I would imagine the majority of the football people in the country would disagree with that view."
On Rangers' website, McCulloch said he was speaking from experience having played in the top flight before Rangers' financial problems in 2012.
But Lennon, whose own side lead the top flight by 13 points, pointed out: "Queen of the South last season won that league by a canter but haven't made great inroads into the Championship this year.
"So that would tell you that there is a gulf between League One and our Championship.
"It is the same with the likes Partick Thistle, who won their league last year quite well.
"I wouldn't say they have struggled, but they have found it pretty difficult at times with the quality of the teams in the Scottish Premiership."
Asked if he would like to put McCulloch's theory to the test with a Scottish Cup meeting with Rangers this season, the former Celtic captain said: "I am not interested at all. If we get a First Division club then so be it.
"My agenda is to win as many games as I can in the league and try to go unbeaten and defend our cup. But whoever we draw is not really high in my priority list at the minute."
When asked why he believed McCulloch felt compelled to make the controversial comparison, Lennon replied: "I don't know the context of the comment and what the meaning was behind it.
"He has played in both those divisions, so maybe there is some validity in what he is saying, but I would doubt it very much."
Celtic captain Scott Brown would not be drawn into an argument with his former Scotland team-mate.
"That's up to him," said the midfielder. "I don't know, I haven't played in that league.
"If you come along and watch the game or watch them on telly, you will see there is a big difference."
However, Brown admitted he would like to be drawn against their traditional rivals in the Scottish Cup.
"Yes, it would be nice to play Rangers," he said. "It has been a good few seasons, but we will have to see what happens."