Inverness CT: 'Players will reap benefits of Russell Latapy arrival'
Last updated on .From the section Football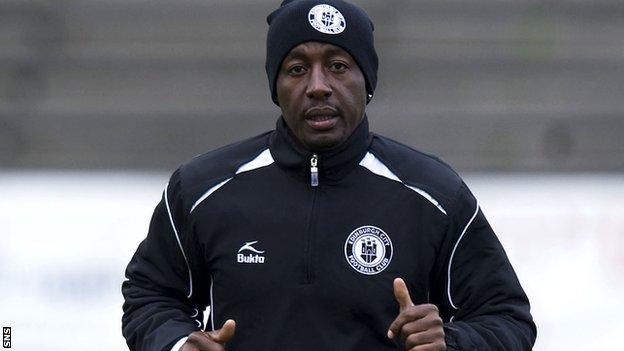 Manager John Hughes is sure his Inverness players can learn a great deal from new assistant Russell Latapy.
The 45-year-old has signed a two-and-a-half-year contract with Caley Thistle ahead of Saturday's trip to Kilmarnock.
"In term of football knowledge, he is a tactician," said Hughes. "He knows the game like the back of his hand.
"He wants to see the game played in a certain manner which suits my style, the philosophy of pass and move, one and two touch, short sharp passing."
Former Trinidad and Tobago midfielder and manager Latapy was part of Hughes' side when he was in charge at Falkirk, where he also worked as a coaching assistant, and the pair played together at Hibernian.
"He is a lovely lad, a very humble boy and he will fit right in here," Hughes told the club's YouTube channel.
"There are no airs or graces, he would give you the last penny in his pocket.
"If I was a young player, a technical player, if they do not get close to him and try to learn from him then they are doing themselves an injustice.
"He is a very approachable guy and a right good coach.
"The dressing-room will take to him because he will be in there mixing with the boys, so I am looking forward to him coming in.
"I have updated him to where we are as a team and it is about getting that blend.
"But I keep saying this - we can never get away from the fundamental values that Terry Butcher put in here; spirit, hard work and siege mentality."
Latapy, who left a coaching post at Boavista to return to Scotland, told the Inverness website: "John and I have had a great relationship over the years and I've taken the decision to leave Portugal to link up with him again.
"Caley Thistle is a community club and I look forward to working with John and everyone there to make an effective contribution."