Monaco pay £41.5m to French league to end dispute
Last updated on .From the section European Football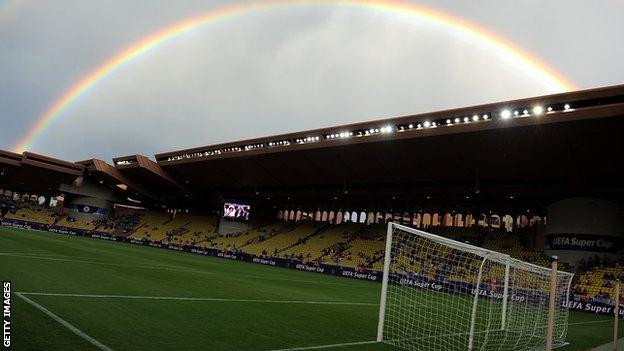 Monaco have paid 50m euros (£41.5m) to the French league to end a dispute that could have seen the Ligue 1 club forced to move to France for tax reasons.
The club are based in a tax-free country where the players get to keep their whole salaries, while in France clubs are liable for a 75% tax on salaries exceeding 1m euros (£830,000).
Monaco were threatened with suspension if they did not relocate.
However, it appears the issue has been resolved with the French league.
"By paying a single lump-sum of 50m euros, payable in installments, AS Monaco demonstrates its commitment to the French football and will thus continue its project to benefit all stakeholders," said a club statement released on Friday.
A strike had been threatened for Ligue 1 and 2 matches from 29 November to 2 December over the then-proposed 75% individual income tax, although the strike was later cancelled.
One of Francois Hollande's signature policies, which affected salaries in 2013 and will affect those in 2014, was later modified so that it would be the employers made liable.
Monaco's dispute with the French footballing authorities came after they were ordered to relocate by the start of June 2014 in order to pay the same taxes as the other football clubs in France.
They have invested heavily since Russian billionaire Dmitry Rybolovlev bought a majority stake in December 2011. Under Claudio Ranieri, they won promotion from Ligue 2 last season and are currently second in Ligue 1.
In the summer, they paid around £50m to sign Atletico Madrid striker Radamel Falcao, who is reported to be earning £225,000 a week.
The club claimed in May that the French Football Federation had demanded an "outrageous" payment of £168m to remain in Monaco, although the FFF claimed that they had rejected an offer of that amount from the club.