Barcelona paid Neymar's parents £34m for Brazil striker
Last updated on .From the section European Football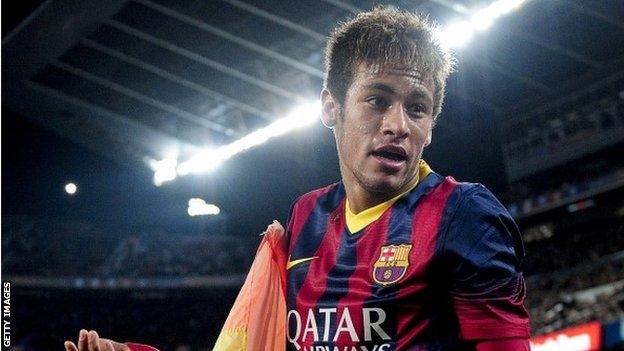 Barcelona have confirmed that Neymar's parents got £34m of the £48.6m paid for the Brazil striker in June.
The 21-year-old's former club Santos received the other £14.6m.
Former Barca president Sandro Rosell has resigned over claims that the actual amount paid was more than £48.6m and he misappropriated funds.
Rosell denies any wrongdoing and a Spanish judge has brought against him by Barcelona club member Jordi Cases.
Confidentiality clauses had prevented Barca from revealing the exact amount of the 57m euros received by Santos and those who owned shares of Neymar's rights.
But Neymar's father authorised the Spanish champions to lift the clause in his son's contract and go public with the fees.
The club have also confirmed that, with the signing-on fee, wages and agents fees, Neymar will cost them an additional £47m over his five-year contract.
Cases had alleged that the amount paid for Neymar was more than the reported fee.
Rosell maintained the accusation was "unfair and reckless" but quit his role, with vice-president Josep Maria Bartomeu taking over.
Bartomeu has said that Rosell's resignation was for several reasons and not just over the Neymar case.
Neymar has scored 11 goals in 26 games for Barcelona this season.