Rangers: Finance director Brian Stockbridge resigns as director
Last updated on .From the section Football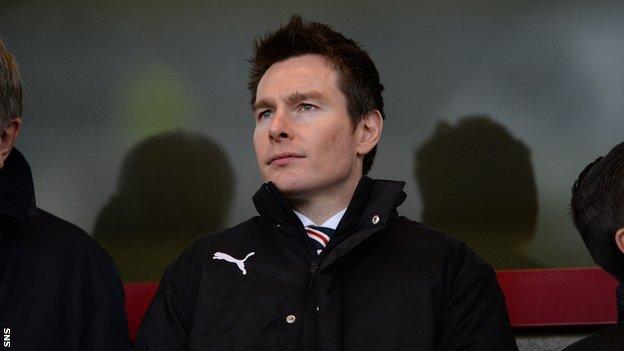 Rangers have parted company with finance director Brian Stockbridge.
He has also resigned as a director, having come under heavy criticism from shareholders at the club's annual general meeting in December.
The League One club reported a £14m operating loss for the 13 months to June after around £22m was raised in a share issue in late 2012.
Rangers said "no ex gratia benefit or bonus" had been paid to Stockbridge over his departure.
However, his annual wage of around £200,000 has been paid up under the terms of his exit.
Stockbridge arrived at Rangers as an associate of Charles Green and Imran Ahmad, who put together the £5.5m purchase of the club's assets in June 2012.
He presided over a period of heavy financial losses and many fans were enraged when it was widely reported that he had doubled his salary by taking a bonus for the team's Third Division title triumph.
The faction that launched an ultimately unsuccessful campaign to join the board repeatedly targeted Stockbridge, often referring to his position as "untenable".
During that bitter campaign, Stockbridge was said to have a agreed to pay back bonuses in return for the support of key institutional investors.
Having been re-elected to the board, he defended the cost of setting up the IPO share issue.
However, a section of the support remained unhappy about his continued presence at the club and he was jeered at the fiery AGM.
"I wasn't brought in here to win a popularity contest," he said at the time.
"Hard financial decisions had to be made. One of those was to pay the fees that were necessary to secure the club."
Announcing his departure on Friday, Rangers thanked Stockbridge for his contribution to the club during "a difficult period".
"The board has commenced the search for a new finance director. A further announcement will be made in due course," Rangers added.
Recently arrived chief executive Graham Wallace is anxious to make savings, having acknowledged that the club's cost base is too high, "even for a top-flight club".
Earlier this month manager Ally McCoist signed off on a pay cut of around 50%, which he agreed to in October.
However, players rejected the proposal of pay cuts of 15% until summer 2015.
The PLC board at Ibrox now consists of Wallace, chairman David Somers, James Easdale and Norman Crighton, none of whom were involved in the initial Green consortium. Sandy Easdale, the brother and business partner of James, sits on a separate football club board.