David Moyes will get it right at Manchester United - Kevin Kilbane

By Kevin Kilbane
Ex-team-mate of David Moyes and played under him at Everton
Last updated on .From the section Man Utd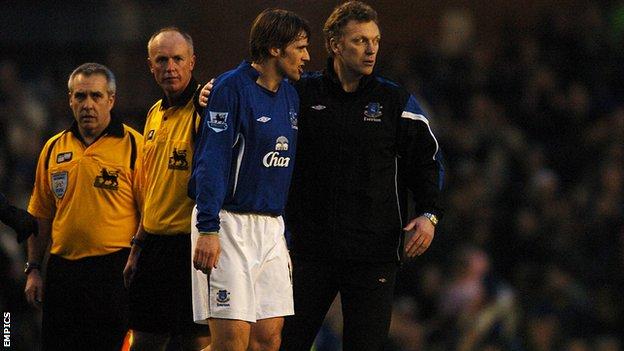 David Moyes has suffered a tough start as Manchester United manager - but I know he is a driven man who can handle adversity and come out the other side successfully.
Arsenal manager Arsene Wenger called that "a miracle". David hardly needs a miracle at Old Trafford but he will be calling on all that experience after the Capital One Cup semi-final defeat by Sunderland - and will be boosted by the arrival of Juan Mata from Chelsea for a club-record fee of £37.1m.
Moyes has faced criticism about results, United's style of play, even his habit of spending almost entire matches in the technical area but he is a man who has the courage of his convictions and will be shaped by his past experiences.
I played with Moyes at Preston and under him at Everton. If I had to coin a phrase to describe him it would be: "If in doubt - work." There will be no-one at Old Trafford putting greater pressure on themselves, or making bigger demands, than the manager.
He trusts himself to employ the right people around him but the David Moyes I worked with trusts his own judgement most of all. He will listen to those around him but he will make the final choice.
And don't let anyone doubt he is ruthless enough to take the hard decisions. He will take advice from the likes of the man he replaced Sir Alex Ferguson and his immediate staff. He will take it on board but he is strong enough to know the buck stops with him and he has to make the decisions.
Moyes has a reputation as a tough character but he will be suffering this season, as any manager would. He is, however, a strong man. He has not talked about being in a great position after a few victories so he will not feel weak after defeats.
There have even been questions about his body language and about how much time he spends on the touchline, with suggestions that this micro-management may not be helping United whereas Ferguson only appeared at pivotal moments.
For a start, the dug-out is a long way from the touchline at Old Trafford but I don't believe Moyes's presence has a negative effect.
He always wants to help his players. In some ways it is out of his hands once he has picked the team but this is a way he can be close to them, offering advice, making tactical changes.
It was never a negative at Everton - and let me tell you I played close enough to him on the touchline to know!
Some have suggested it might make United's players nervous and maybe they do not need close-up guidance with their experience. Moyes will not see it like that. He will see it as helping his players and I see no negatives in that.
I admit I speak from a pro-Moyes perspective after what he did for my career. This will be affecting him but I have seen how he can galvanise a squad and get the best out of them.
At Everton, if we didn't get the right result on a Saturday he would be right in among it with his players on Monday. I've known some managers who would keep their distance after a loss because they were down but David was right there, perhaps even more hands on, in and around the players, trying to create a mind-set and mentality that told the players: "I'm with you."

People see him as a tough, uncompromising man but he can show another side. He will be tapping into that now and there is a great example of how he handles the sort of disappointment he might be feeling now.
I remember what was probably his worst time at Everton after that season when we finished 17th. We lost 5-1 at Manchester City on the final day of the 2003/04 season and there was an air of negativity around the club.
There was a lot of talk about Rooney, who left for Manchester United after a brilliant Euro 2004, and we had lost a couple of pre-season friendlies to lower division sides. We were struggling.
Everton was also at the centre of a possible takeover which, if Bill Kenwright did not hold on to the club, might have meant David was no longer the manager.
We then went off to Houston to play some games. The results were not great but it gave David the chance to pull us together as a squad, take us out, work with us and get things sorted. He created something. He is capable of that.
Bill Kenwright stayed on at Everton. and even though Wayne left, we finished fourth the following season in the Champions League places. It was a brilliant piece of management out of adversity and won him great respect.
Quite often he would also earmark a Sunday a month or two ahead when he would say to players, wives, girlfriends and family that we would go out and have a meal together.
It was a "thank you" for families for what they were sacrificing and putting themselves through as much as players. He tried to adopt this through good and bad times. He can judge the mood, which is important.
What will also help now is David's man-management. He can handle the big personalities. It was a huge step up for him from Preston to Everton and this has probably been ever bigger because there are more external demands at United.
One of his great strengths is his ability to weigh up players in good times and bad and that will certainly be a big asset now. At Everton he might have had four medal winners, at United he's got 25, but he will know what he is dealing with. He knows players need to be treated differently.
He is also adjusting to a different dressing room. David will realise that some players who are not in the squad or the team could be negative influences but his only focus, in my opinion, will be to give every one of them the best possible equipment to be successful.
Moyes is also very fair. He probably recognised weaknesses in United's squad but felt he had to give title winners a chance and would be vulnerable, open to accusations of tampering with a successful side, if he didn't.
I know he will be hurting but he will call on all his experience over the years, his attention to small details, to improve United. And he will be working harder than ever. He is single-minded, focused.
When I worked with him he perhaps used to take on even more of the workload than he needed to when things were not going well because he wanted to ensure every base was covered, that there could be no excuses - for himself as much as anyone else - if things were not going right.
He will be in at the crack of dawn at Manchester United's Carrington training headquarters. Experience tells me he will be going to the kit man to ensure he is giving the players all the right things, ensuring the physio is doing everything right with injured players, checking everything that could make the crucial difference.
He does not, unlike some managers, ignore injured players. He will be monitoring every detail of Robin van Persie and Wayne Rooney's progress to ensure they hit the ground running on their return.
Moyes will have watched every second of that Sunderland game again when they went out of the Capital One Cup on penalties, scrutinising everything, assessing any small detail that could have been done differently and passing it on to the players. He is meticulous.
He wants to feel as though he is having a direct influence on every single detail around the club, certainly around the team's preparations, to ensure results would turn around.
And, after playing with him and working for him, I know he will not rest until he gets it right.
Kevin Kilbane was talking to BBC Sport's chief football writer Phil McNulty.