Jose Mourinho: Hard to let Juan Mata leave Chelsea for Man Utd
Last updated on .From the section Football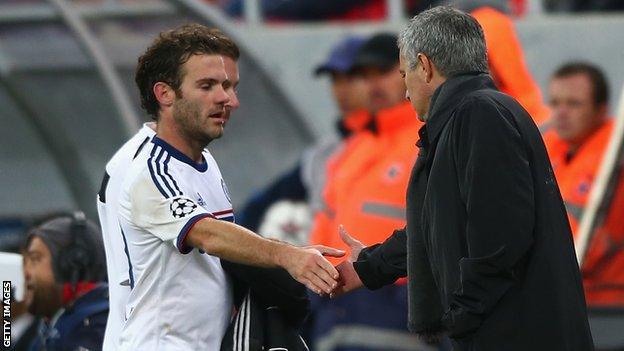 Chelsea manager Jose Mourinho says it was a "hard decision" to let Spain midfielder Juan Mata join Premier League rivals Manchester United.
Mourinho told BBC Radio 5 live he would still have liked Mata in his squad.
"These are decisions a manager has to make, but for me it was a hard decision. I'd love to have him in my squad, absolutely," Mourinho said.
"But to have a player in this situation is hard. He deserves that Chelsea open the door for him [to play regular first-team football].
"I like people to be happy. I'm so sorry I couldn't make him happy in this squad - I'm so sad with that, but I build my team around Oscar playing as my number 10."
And Mourinho says that when Mata returns to Stamford Bridge with United he is guaranteed a good reception from the Chelsea supporters.
"He's very classy. I think he's a player that stays in the fans' hearts and also in those of his colleagues," added the Portuguese.
"I'm just with him six months and I like him a lot. Imagine the people who have been with him for three years. He stays in the club history - he won important trophies and people loved him.
"He will come here with a Manchester United shirt on one day and the people will show him that."