Caf outlines 2015 qualifying process
Last updated on .From the section Football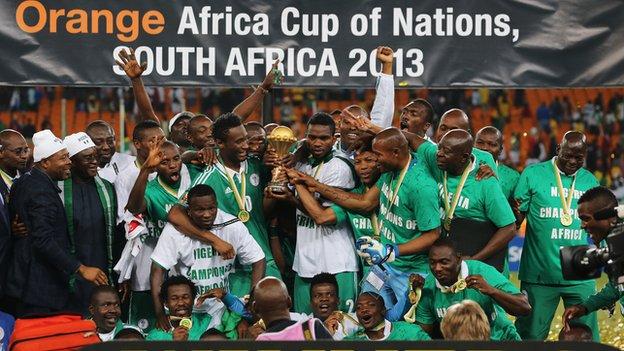 The Confederation of African Football has decided on the qualifying process for the 2015 Africa Cup of Nations in Morocco.
The other 21 nations of the 51 entrants have been given byes into the group stage.
The 28 nations will then be split into seven groups, with the top two in each pool and the best third-placed country qualifying for the finals along with hosts Morocco.
A ranking system based on the past three Nations Cups and 2014 World Cup qualifying determined the 21 nations who qualified automatically for the group phase.
The preliminary rounds of the qualifying process will be played between May and August, with the final phase taking place from 5 September until 26 November.
The draw has been moved once again and will now take place on 27 April in Cairo, Egypt and not in Morocco as previously announced.
The Caf executive committee also announced that six countries have bid to host the 2019 Nations Cup and three for the 2021 edition.
Algeria, Cameroon, Ivory Coast, Guinea, DR Congo, and Zambia all submitted dossiers for 2019.
The official candidates for the 2021 edition are Algeria, Ivory Coast and Guinea.
Libya are still due to host the 2017 finals having swapped with South Africa, who held the event in 2013.
The Caf executive committee will decide the hosts for the two tournaments at their meeting in September 2014.