AFC Bournemouth: Harry Arter inspired by Rodgers' comments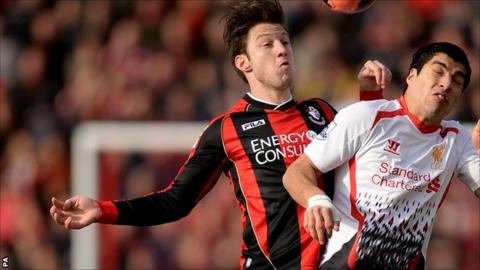 Bournemouth midfielder Harry Arter says Cherries boss Eddie Howe played the squad Brendan Rodgers' post-match press conference from Saturday's FA Cup game against Liverpool.
The Cherries were defeated 2-0 by the Reds but Rodgers was full of praise for Bournemouth's performance.
"He [Howe] wanted us to dwell on it a bit more to make us realise how well we did," Arter told BBC Radio Solent.
"He played us Brendan Rodgers and how complimentary he was."
Liverpool manager Rodgers said Bournemouth, who take on Huddersfield on Tuesday, and Howe deserved great credit for the way they played.
"When you have a team that want to play football they are the most courageous players on the field," said Rodgers.
"It is easy to coach a team to sit back, not want the ball and defend and then just wait for a hump up the pitch.
"The courage that the Bournemouth players showed today was fantastic - they have got better, I have watched them as the season has gone on."
And Arter says the squad are lucky to have a manager who has a philosophy of playing attacking, passing football such as Howe.
"A lot of managers coming in are trying to play that way and we are lucky we have a manager who has that philosophy of football and steadily we are getting better," he said,
"It was a really good day and I think we put on a good performance and it was appreciated by everyone.
"I really enjoyed the experience, it just felt like another game in the end and it felt competitive and if you watching it you probably would not have been able to tell who was the Premier League team and who was in the Championship.
"You can see how far the club has progressed and hopefully we can kick on.
Arter added: "It was good to lose in a positive way playing good football and to try and match Liverpool and for a lot of the game we did do that. It was appreciated by respected people in the game and that is credit to all the players."