Mansfield Town: Legal action costs means no signings
Last updated on .From the section Football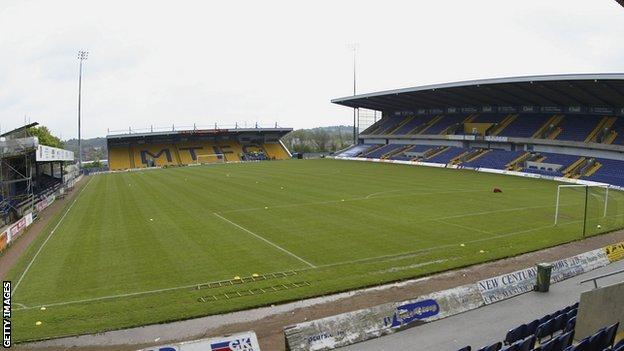 Mansfield have confirmed they cannot afford to sign players this month as they try to defend legal action against them by ex-shareholders and directors Andy Saunders and Steve Hymas.
The pair are owed almost £1m in loans from their period of ownership.
A club statement said "Legal expenditure is now set to increase.
"Funds which were intended to be used to strengthen the playing squad in this transfer window are now no longer available."
The extension of Darryl Westlake's loan from Sheffield United until the end of the season is the only deal Mansfield have made this month.
They were linked with Crawley striker Emile Sinclair, but the move is understood to have collapsed.
Meanwhile, the Stags have also cancelled a proposed training camp in Malta ahead of next season.
Stags chairman John Radford has not denied that Saunders and Hymas are owed £989,441.94.
In an initial statement about the matter earlier this month, the club said they were not in a position to repay the loans, which they say do not have a set redemption date.
Saunders and Hymas, who quit the board following behind-the-scenes disagreements in 2012, replied in a statement of their own, saying: "We have in fact refrained from taking legal action for some six months while trying to negotiate an arrangement with Mr Radford for repayment of the loans, which became repayable once the club gained promotion and found themselves in better financial circumstances."
The pair insist, however, that they are willing to negotiate an arrangement that will have "minimum impact on the club's finances".