James Dunne joins St Johnstone on loan from Stevenage
Last updated on .From the section Football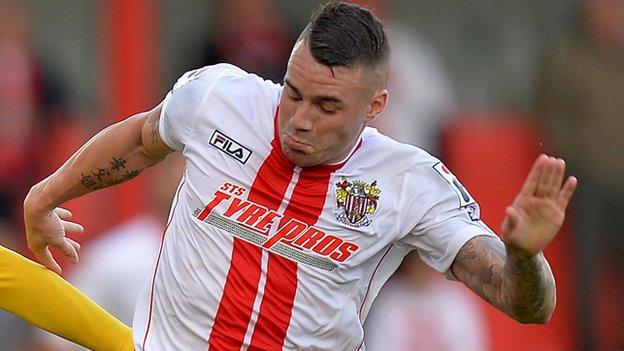 Stevenage midfielder James Dunne has joined Scottish Premiership club St Johnstone on loan for the remainder of the season.
The 24-year-old former Arsenal trainee was
Dunne has played in 59 games for the English League One club since August 2012, scoring eight goals.
He was player of the year in his first season, but Stevenage chairman Phil Wallace said Dunne had "not settled".
St Johnstone had for the rest of the campaign.
Manager Tommy Wright told BBC Scotland: It is well known that we were only in the market for a striker, but unfortunately Murray Davidson took a horrible injury and he's out of hospital tonight so is hopefully on the mend.
"So we had to rejig what our targets were going to be and a midfielder was then a priority as well as a striker and James is someone who had been mentioned to me earlier in the season and we had kept tabs and got reports on him.
"He's got a lot of energy, good tackling ability as well, he's got good physical attributes for getting about the pitch.
"He was at Arsenal for four years as a young player and played two years for the reserves, he played a lot of games for Exeter and Stevenage paid £125,000 for him.
"He was their player of the year last year but has not figured for Graham Westley and they were keen to get him out on loan and timing wise it fell into our lap."
Dunne missed the chance to make a quick-fire debut when because Dundee United's pitch was waterlogged.
St Johnstone's next game is the League Cup semi-final against Aberdeen on Saturday.
Dunne said: "I heard about the possibility of a move up to St Johnstone just under a week ago and on Friday night Stevenage said it looked like happening and allowed me to travel up.
"It's disappointing tonight's game is off as I was looking to being involved and, of course, it was to be televised.
"I'll just need to try and impress in training to be in with a chance of being involved in the semi-final on Saturday."
Dunne, who joined Stevenage from Exeter 18 months ago, is mystified why he has fallen out of favour with the League One outfit.
"I'm not sure why I've not been included in recent weeks, but I'm fit and available to play," he added.
"I think that this move to the SPFL is a step up in standard and I'm really looking forward to it."
Meanwhile, Stevenage have also allowed Oumare Tounkara to go out on loan, with the striker joining Grimsby Town.
St Johnstone have also signed 19-year-old goalkeeper Sam Bunting who has been training with the club recently.
The former Windsor FC man is viewed as an under-20 squad player for the moment.