Bundesliga: German top flight reveals record financial results
Last updated on .From the section European Football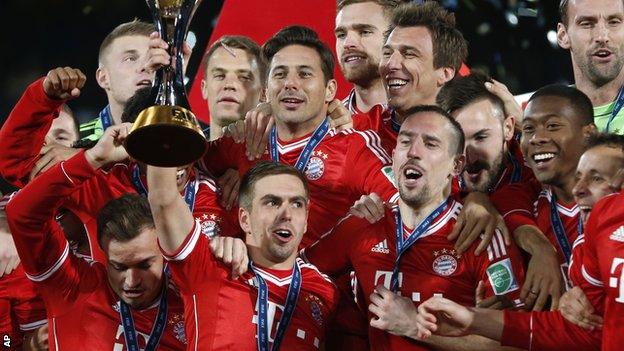 The Bundesliga posted a record turnover of 2.17bn euros (£1.78bn) in the 2012-13 season to remain the second biggest league in Europe.
The 4.4% rise means it stays behind only the English Premier League.
All but one of the German top flight's 18 clubs posted a profit before interest, taxes, depreciation and amortisation (EBITDA).
The Bundesliga remains the world's best attended league, but the average crowd per game fell to 41,914 from 44,293.
Operating profit reached a high of 383.5m euros, with this figure boosted by media revenue rising by more than 70m to 619m. The financial results for the 36 clubs in the top two divisions represented a ninth-consecutive turnover record amount, worth a combined figure of 2.59bn euros.
"The clubs have acted with good financial sense and with the aim of tight cost control." German Football League (DFL) president Reinhard Rauball said.
"[Speaking about the drop in average attendance] This had mainly to do with the makeup of the league and with seven clubs playing in stadiums with a capacity of under 30,000 seats. It is still the third best average in Bundesliga history."
German football has been equally successful on the pitch, with Bayern Munich winning the Champions League last season against domestic rivals Borussia Dortmund. This term, four Bundesliga clubs have reached the knockout stages of the competition for the first time.