Inverness Caledonian thistle: Latapy wants slick football
Last updated on .From the section Inverness CT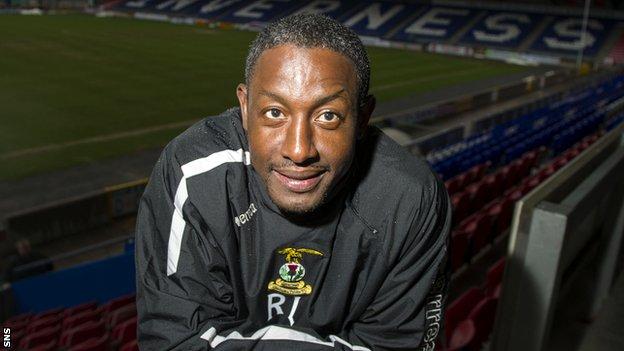 Russell Latapy's long-term goal as assistant manager to John Hughes is to help Inverness develop an entertaining style of play.
The former Rangers, Falkirk and Hibs midfielder arrives in the Highlands ahead of Sunday's League Cup semi-final with Hearts and is keen to get started.
"The boys are quite upbeat and in good spirits," said Latapy.
"They're quietly confident that they're going to go out and do their best, so hopefully we can go and get a result."
The former Trinidad and Tobago manager, who is best known in Scotland for his time at Easter Road, says he is looking forward to making a contribution at Inverness Caledonian Thistle and helping maintain the club's form over the past two seasons.
Hughes, who was appointed manager when Terry Butcher left in December, moved quickly to appoint Latapy as his assistant, the two having spent time together as players at Hibs and in a coaching capacity while Latapy was with Falkirk.
"When you look at the club and what it has achieved over the years, it's a privilege for me to be part of what is happening, to have the opportunity to work with John again," said Latapy.
"It's difficult to say exactly what I'm going to bring, but my role is assisting in doing whatever I can to make the players better and ensure we get results.
"Basically, whatever is needed is what I'll be prepared to do.
"But everything takes time - first and foremost, we have to get results because football matches are about winning.
"Obviously, we would like to do it in a particular way.
"There's a lot of quality in the dressing room, so I think within time, we would try to develop a style which Yogi (John Hughes) is known for.
"I think, coming in right now and asking the players to make big changes when they've had a lot of success over the past years would be unfair to everyone involved.
"We want to play the way we did at Hibs and Falkirk, where we had some success, but it's not going to happen overnight."
Latapy, known as the "Little Magician" for his style of play during his time in Scotland, admits that the Scottish game has changed significantly due to the absence of Rangers from the top-flight, but believes the current emphasis on youth players should help boost local talent in the long run.
"In those days, we had the Old Firm teams, which definitely made a difference," said Latapy.
"A lot of teams survived because they got the following of the Old Firm - but without Rangers being in the top league, it definitely makes a difference.
"I would also think that before, ten years ago, the clubs would go out and buy quality because the money was available, so what's good at the present time is that young players are getting the opportunity to come through and gain experience from an early age, because there isn't the money that was there before.
"But I think Scottish football will see the benefit in the national team in a few years to come."