Michael Laudrup hails 'massive' Swansea win against Fulham
Last updated on .From the section Football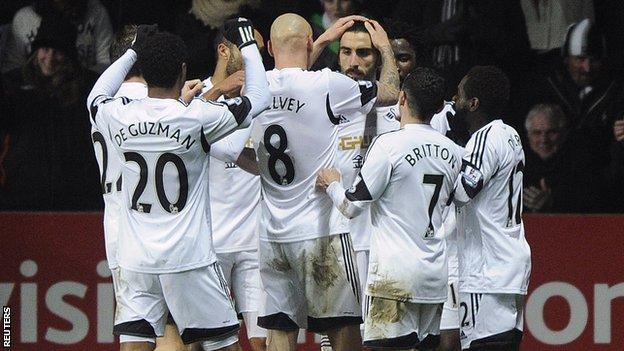 Manager Michael Laudrup was delighted with Tuesday's that ended Swansea's eight-game streak without a win.
Swansea had begun the day just three points clear of the relegation places and two points above Fulham.
But goals from Jonjo Shelvey and Chico Flores catapulted the Welsh side to 10th in the Premier League table and six points clear of danger.
"It's a massive win today," admitted Laudrup after the game.
"First of all winning after [eight] games in the league, secondly against a direct opponent - they had 19 points, we had 21.
"Of course when we play those direct opponents now, which we have to in the next games as well, it's even more important to get the points."
Both Swansea goals were aided by wicked deflections past Fulham goalkeeper Maarten Stekelenburg, but Laudrup said they were just rewards for the pressure being put on the Cottagers.
"Both goals did take deflections but it's quite typical when you're in situations like ours that you have to score goals like that," Laudrup said.
"Call it luck or whatever but you still have to go for luck and if you don't shoot, it won't go in.
"I don't know if Jonjo or Chico can claim it, but I don't really care.
"You could see it was two teams struggling a bit but I still think we tried.
"They played more on the counter and on the set piece, they had a huge chance after a free-kick, a header, but we hit the crossbar.
"But in the second half we played well and from scoring the first goal I think we dominated completely. I don't think they had a chance in the second half until injury time.
"Now we have to build on this, we have three more games coming up against direct opponents - West Ham on Saturday then Cardiff, a huge game as well, and then Stoke. So we have to pick up points there as well."