Liverpool can look forward after derby thrashing of Everton

By Phil McNulty
Chief football writer
Last updated on .From the section Football566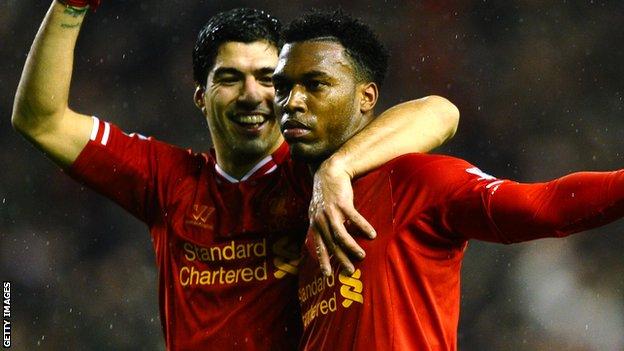 Liverpool started the 222nd Merseyside derby looking over their shoulders at neighbours Everton and with a glance in the direction of Manchester United, fortified by Juan Mata's £37m addition.
They ended a thunderous night with their biggest Merseyside derby win since November 1982 and, at 4-0, the widest victory margin at Anfield against their rivals from across Stanley Park for 42 years.
Manager Brendan Rodgers will seek satisfaction in those statistics - but of greater significance is that this evolving Liverpool team will feel they can gaze forward rather than back in the closing phases of the Premier League season.
To suggest Liverpool can be title winners is still stretching reality but a place in the top four, which was seen as the real measure of Rodgers's achievements when the season started, is there for the taking when their remaining fixtures are studied.
This meeting with Everton was billed by some as the most crucial league meeting of these fierce rivals in three decades. Any pretence at a serious contest was ripped away within 35 minutes as fourth-placed Liverpool roared into a three-goal lead by cutting Everton to shreds.
Steven Gerrard scored first, Daniel Sturridge got two before the break and when Luis Suarez added a fourth five minutes after the interval Everton were looking like they could be on the wrong end of all sorts of unwelcome records.
It stayed 4-0, Liverpool paying the price for needless generosity when Sturridge showed why he is not their regular penalty taker with a shocking effort, but the message delivered by Rodgers and his players was clear.
Arsenal, Tottenham, Manchester City and Chelsea all have to come to Anfield, so Liverpool's fate is - to a large extent - in their own hands despite United's strengthening and Everton's excellence before the spectacular demolition on Tuesday.

Liverpool's defence is still a weak spot to be probed but this, in some respects, is a risk Rodgers is prepared to take to give full flight to the attacking talents of the likes of Suarez and Sturridge.
The eventual Premier League champions are likely to be elsewhere, but Liverpool can have a major say in and around those top four places and certainly have the capacity to claim one of their own.
Everton's optimism as they arrived at Anfield was tangible. Manager Roberto Martinez's relentless positivity was the catalyst for a feeling that they could end a winless league sequence here stretching back to 1999.
It fell down on several levels. Martinez gambled on players who were clearly not match fit, such as Phil Jagielka, Antolin Alcaraz, Ross Barkley (who was still excellent) and Steven Pienaar. They also, to use cricketing parlance, did not just go onto the front foot but charged down the pitch to take on the opposition. It was a fatal, flawed approach.
This was what Martinez may have been referring to when he called Everton "naive" - and it led them right into a trap Liverpool sprang on them time and again in the shape of quite devastating counter attacks.
And most of all, Everton fell down in the face of a Liverpool team superbly marshalled by Gerrard and with creative forces that feasted on the spaces afforded them.
Gerrard was superb in front of the back four and those who are tempted to rather hastily say Liverpool may just be better off without their captain should think again. They are not.
Philippe Coutinho was brilliant in his creation while Sturridge and Suarez are irresistible when given the right service.
Sturridge had an eventful evening, getting carried away with his selfishness in search of his hat-trick and reducing Suarez to a quite magnificent dancing, jumping, arm-waving fit of pique when he refused to play the Uruguayan in on goal.

And when Rodgers decided to give him an early night, Sturridge responded with a minor hissy fit that ended with him apologising for his reaction. All was forgiven in the after-glow of such an outstanding victory.
Nothing can take any gloss off this win for Liverpool, delivering what may be a psychological blow to Everton while adding to their own convictions that they can finish in the top four.
Manchester United may well emerge as the big danger, but Liverpool have the attacking talent to give themselves great confidence as well as help to cover up defensive frailties, although those big home games will be examinations as well as opportunities.
And credit too, to Rodgers. After his transitional first season when occasionally Liverpool appeared to be implementing his passing game for passing's sake, they have now shifted emphasis to become a more rounded attacking team.
The passing remains but pace, movement and two outstanding goalscorers means that the development under Rodgers is there for all to see on nights like this. There will be bumps but there is no doubt the manager is on the right lines.
It is an insight into Rodgers' approach that he wants to add another attacker to his squad before Friday's transfer deadline. Like his team he is looking forward not back.
As for Everton, it was a chastened manager and team who filed out of Anfield on the back of an embarrassment - but perspective is also needed.
This was only their third Premier League defeat this season. It was a painful one, but still only their third all the same.
Everton's problem was always going to be a thin squad and they have been struck by long-term injuries to Arouna Kone, Darron Gibson, Bryan Oviedo and now potentially Romelu Lukaku as he was taken off on a stretcher with ankle ligament damage, the victim of an unwitting challenge from team-mate Gareth Barry as he slipped trying to block Gerrard scoring Liverpool's first goal.
Martinez must now replace an injured loan striker with another loan striker, Monaco's Lacina Traore, who has been suffering with injury himself. This hints at his sparse resources.
Liverpool and Rodgers are worried about the size of their own squad - but the scale of this victory will act as a shield against wider concerns.
They are still unlikely to win the title - but they have every right to look at the road ahead in the Premier League rather than worry about what is appearing in their rear view mirror.