David Moyes sees Man Utd mood improve after Cardiff win
By Alistair Magowan
BBC Sport at Old Trafford
Last updated on .From the section Football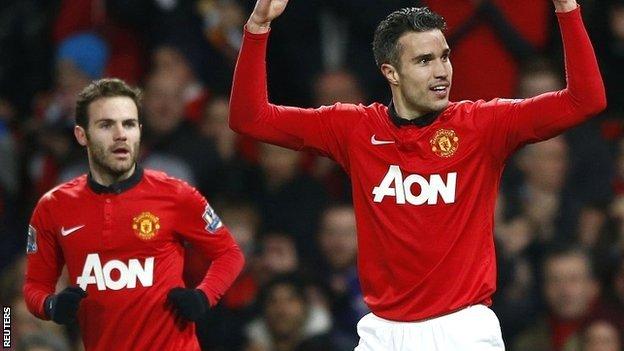 Manchester United boss David Moyes said the signing of Juan Mata and the return of Robin van Persie and Wayne Rooney has lifted the mood at Old Trafford.
Van Persie returned from an 11-match injury lay-off to score in a 2-0 win over Cardiff, while Mata shone on debut after his £37.1m move from Chelsea.
Rooney also came off the bench following a groin injury.
"Has my mood improved? Yes because I know that I have some really good players coming back," Moyes said.
"But I still want to be more convincing. I want to win better and want to play much better so don't think because I've won tonight that that means that I've got a smile and I'm happy.
"I'm happy for the three points but for where I want to go and the vision for where I want my team to play, I still feel as though I've got a long way to go."
Victory lifted Manchester United closer to their rivals for a top-four spot, Everton and Tottenham, but they still lag six points behind fourth-placed Liverpool after Brendan Rodgers's side thrashed their Merseyside adversaries.
And Moyes admitted that the arrival of Mata, who received a standing ovation after he was substituted late on, will give him creative options in attack while boosting his team's form.
Prior to the win against Cardiff, where Ashley Young scored a fine goal, United had lost four of their last six matches, crashing out of both domestic cup competitions.
"Juan did really well. He made our best chances in the opening 30 minutes, so I was really pleased," Moyes added.
"We will get used to him and he will get used to us. I wanted to see him and Robin tonight together, but we will use in him in different positions.
"I hope we play better with him in the side and hope we create more chances and play better especially at Old Trafford where for some reason, we have not just been able to take our opportunities."
Moyes also hoped the addition of Mata, Van Persie and Rooney - who had not played since 1 January - would boost the form of other players.
"The results with them in the team will be much better," Moyes said.
"We need to get them into the right physical condition to make that happen. They are all in need of match fitness but I was really pleased with them.
"I actually thought one or two others stood up. Ashley Young made a goal and scored a goal, and what I want is competition. If people play well, go and do it again next week, but I also need players who if we lose people to injury, can come in and keep the results going in the right direction."