Player-coach Kelly Smith commits future to Arsenal Ladies
Last updated on .From the section Football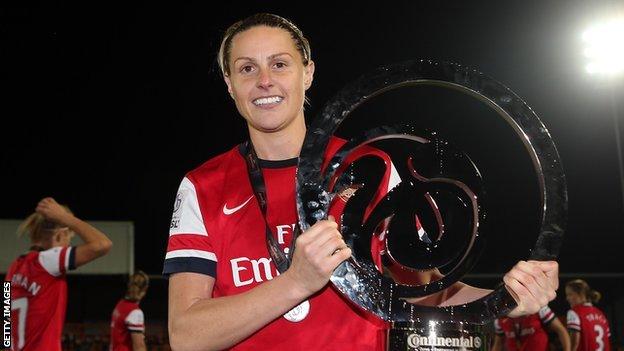 Kelly Smith has signed a new contract with Arsenal Ladies to continue in her role as player-coach.
The 35-year-old captain, who is England's all-time leading goalscorer, was appointed manager Shelley Kerr's assistant in August 2013.
Smith said: "I'm delighted to have agreed a new contract with Arsenal."
She follows Rachel Yankey, Alex Scott, Emma Byrne, Jordan Nobbs and Danielle Carter in committing her future to the Gunners this pre-season.
Smith, who has scored 46 goals in 115 appearances for England added: "Coaching has provided a fresh and exciting challenge for me, and I'm really enjoying combining my new role with my responsibilities on the pitch."
General Manager Vic Akers said: "Kelly has been an exceptional player for us over the years and has now become an exceptional coach too.
"Her experience, her passion and her knowledge of the game are all having a really positive impact on the rest of the squad, and helping with the development of the younger girls in particular."