Exeter City admit 'concern' over falling attendances
Last updated on .From the section Football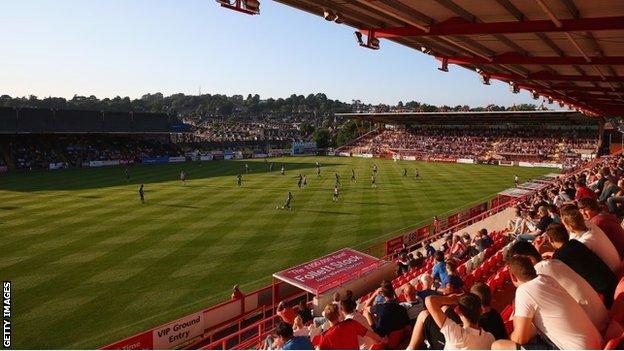 Exeter City vice-chairman Julian Tagg has admitted the club is concerned by falling attendances at St James Park.
The Grecians had just 2,798 through the turnstiles for Tuesday's League Two clash with Oxford, their lowest attendance since October 2007.
"It is a concern but the reality is that it's the case across football generally, especially in League One and League Two," Tagg told BBC Radio Devon.
The club are averaging gates of 3,886 this season.
It is the first time since the club returned to the Football League in 2008 that average attendances have dipped below the 4,000-mark.
As recently as the 2009-10 season, the club had an average league attendance of 5,832 in League One.
Tagg said this season's fall in attendances was largely a result of Exeter City's struggles on the field, with a mid-season slump seeing them drop to 15th in the table after a promising start to the campaign.
"Our form hasn't held up which is well recognised, but at least there's something to hold on to with the youngsters coming through the gates," he added.
"I used to come some years back just to see Buster Phillips and I think we have something similar now.
"There are some attractive things to watch and we're trying to do something different, which we hope will help make sure people want to keep coming back."
Postponements meant Exeter had suffered a severe shortage of home games and the vital income which comes in through the gates for a fan-owned club.
City had just one home game in December and one at the start of January, prior to Tuesday's game against Oxford.
"It is very difficult financially, but we have a lot of experience of handling this kind of situation," said Tagg.
"It's been a lot worse and our processes are much more efficient than they were, and we have weekly meetings anticipating what might happen and that has stood us in good stead."