Swansea hope for Michu's return in Welsh derby against Cardiff
Last updated on .From the section Football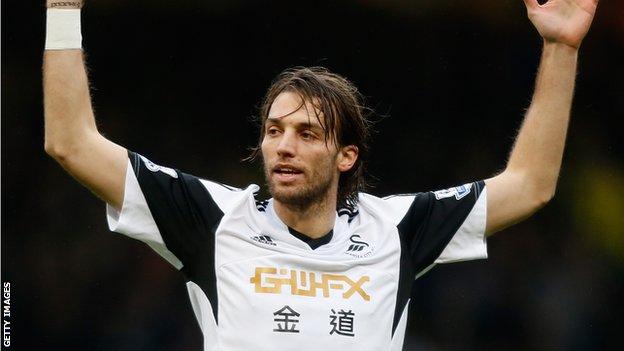 Swansea could have forward Michu back from injury in time to face Cardiff.
The 27-year-old Spaniard has been sidelined since having ankle surgery at the end of December but could return in the south Wales derby on 8 February.
However, Swans boss Michael Laudrup is not going to rush his star striker back and Michu is likely to be on the bench.
"Even if he is fit to play it is not likely he will start. If he could play 15 or 20 minutes, I do not know," Laudrup said.
"We well know it is one thing to be fit, and another to be match fit.
"So I don't want to put pressure on Michu and say he will back in the derby and have everybody think he can play 75 minutes without a problem and be at his best.
"I think we can all agree what when we play Cardiff we will need everyone at their best and normally when you have players who have been out for quite some time you have to ease them back in.
"If we can then get Michu back at his best after such a long time it will be like another great signing in the transfer window."
Swansea ended a run of eight Premier League games without a win with a on Tuesday, catapulting Swansea from three points above the relegation places to a more comfortable 10th in the table.
The victory and the return to fitness of Jonjo Shelvey, Jonathan de Guzman and Nathan Dyer have given Laudrup a boost ahead of a batch of crucial games.
After downing the Cottagers, Swansea go to West Ham on Saturday, then face Cardiff at the Liberty Stadium before games against Stoke, Everton - in the FA Cup fifth round - Liverpool and as well as a two-legged encounter with Napoli in the Europa League last 32.
"I never used the injuries as an excuse, more as an explanation, but of course in the last four or five weeks we've had many, many injuries," Laudrup said.
"When Jose Canas went off against Manchester United at Old Trafford we had nine injuries, that means only 13 first-team players.
"Against Fulham we got four back and maybe in 10 days' time we will have Michu and Canas as well.
"That means if we're lucky and there's no more injuries, maybe in 10 days' time we will have only one injured player still - that would be Garry Monk.
"We will go from 13 fit players to 22 in just 10 days and that's great news, fantastic news.
"That gives us a lot more possibilities. We've had some players recently that had a lot of pressure on them as they had to play the whole time.
"Players had to play not in their position, like Jordi Amat who has had to play two or three games as a central midfielder even though he's a centre-back.
"Now with people coming back, everyone can go back into their normal positions with so many games coming up in February."