Kilmarnock: No chance of Kris Boyd sale says Johnson
Last updated on .From the section Football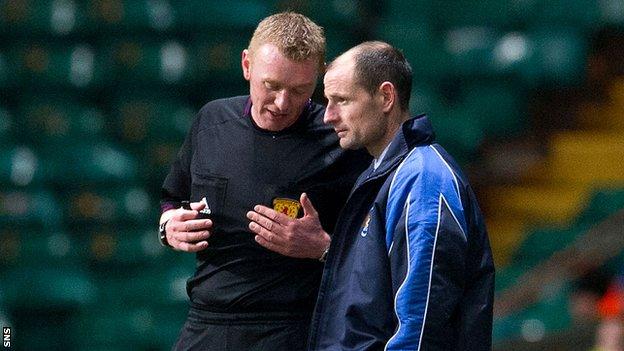 Manager Allan Johnson says there is no chance Kris Boyd will be leaving Kilmarnock.
Boyd was kept on the bench for the 4-0 defeat by Celtic, but Johnson said he is too important a player to let go.
"There's no chance as far as I'm concerned," he said. "It's important we keep him fit for the remainder of the season, he's such a big player for us.
"He's our main player, he's been scoring a lot of goals, he's in great form so we're keen to keep him."
The Rugby Park men were disappointing as they were easily swept aside at Celtic Park, with Johnston explaining the reasons why his top goal-scorer did not feature.
"On Monday, Boydy was actually getting treatment on both legs," he revealed to BBC Scotland. "He had a few knocks from the weekend, his calves were really tight as well from the heavy pitch.
"He made himself available to play, but it would have been a gamble with a big game at the weekend.
"To be fair to Celtic, they were different class right from the very start then obviously losing an early goal doesn't help.
"They're just better players, but we can learn a lot from that performance. The way they moved, got into positions to cause us problems, the way they passed the ball.
"Believe me, that was the game plan - to be tight against them, but it never worked out like that, especially in the first half.
"Physically, they were bigger, stronger, they were better technically.
"I thought we could have had a couple of penalties and, to be fair, they could have had a penalty as well, but none of them were given, which is a wee bit frustrating.
"It certainly looked a penalty from where I was."
New signing Alexei Eremenko could make a return to the Kilmarnock side for Saturday's crunch game with Ross County, but Johnson wants to check the midfielder's fitness first.
"I'll have a think about it and see how he is in training," he said. "He's not really even trained for the past three months, so it's going to be really difficult.
"The last thing you want to do is put him on, he's not fit and he ends up pulling a muscle, so we'll have a chat with him and see what he thinks."