Manchester City: Can anyone stop them winning Premier League?

By Phil McNulty
Chief football writer
Last updated on .From the section Football1649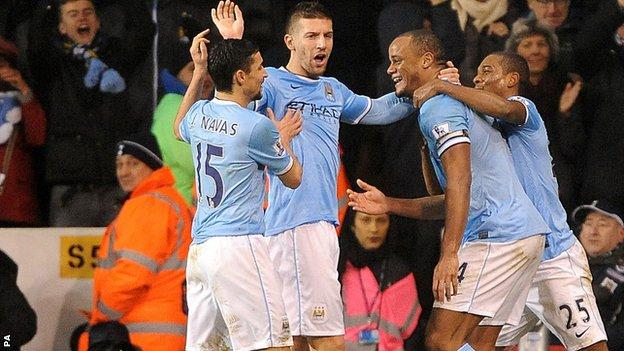 As the slanging match broke out in west London between Jose Mourinho and Sam Allardyce, Manuel Pellegrini was letting Manchester City do all his talking just off the Seven Sisters Road.
While Chelsea manager Mourinho accused West Ham United of dealing in "19th-century football" in a goalless draw at Stamford Bridge - and Allardyce delivered a typically blunt response - Pellegrini's Manchester City were back at the top of the Premier League.
And there was nothing "19th century" about the manner of the 5-1 beating of Tottenham at White Hart Lane that put them there. This was modern, 21st-century football at its finest, "the best team on the planet" according to beaten manager Tim Sherwood.
This claim will be put to the test when City face Barcelona in the last 16 of the Champions League - but they have already beaten holders Bayern Munich in their own Allianz Arena and are now producing a collection of work that suggests there is no-one to touch them in this country.
The meetings between City and Barcelona promise to be a purist's delight and there is a growing feeling that Pellegrini's brilliant side have a serious chance of beating the Catalans, such is the scale of the talent and goalscoring threat in their squad.
City are top of the Premier League and it is increasingly difficult to see anyone removing them, especially after closest rivals Arsenal and Chelsea dropped points in the midweek round of fixtures.

It is also hard to see the quiet, understated Pellegrini getting involved in the verbal nonsense that consumed Mourinho and Allardyce. Instead, he uses his team as his heaviest weapon and this season they have been the football equivalent of an instrument of torture.
Such is Pellegrini's focus in the technical area that demands for a wave from City's fans went unheeded until the closing seconds - although one observer suggested this was because he was unhappy at his side only scoring five goals.
Arsenal, Chelsea and perhaps even Liverpool may still hold title aspirations but the reality is that City have the best team, the best squad and a confidence level that is hitting the roof. It is a simple equation and the final calculation should see the title return to Etihad Stadium. Can there now be any other realistic outcome?
The rights and wrongs of a £233m player wage bill, revealed in City's annual report, will never reach a unanimous conclusion but none of the rain-soaked travelling supporters tucked away in a corner of White Hart Lane on Wednesday felt they had been short-changed.
They will feel they have had full value for money this season from a team that has scored 68 goals in 23 league games and a goal difference of +42 with power to add.
This was their eighth league win in succession and Alvaro Negredo, such a powerful force this season, was not even required to leave the substitutes' bench.
This is the momentum of champions and time spent in City's company only adds to the belief that they will stretch away from the chasing pack having claimed top spot.

City knew victory would put them back on top but it would have to come against a Spurs team that is resurgent and with the pain of a 6-0 loss at Etihad Stadium in November still fresh in the memory.
The response was a first 30 minutes that was little short of a masterclass, with chance after chance created, passes zipping across a greasy surface with precision inspired by technicians supreme Sergio Aguero and David Silva.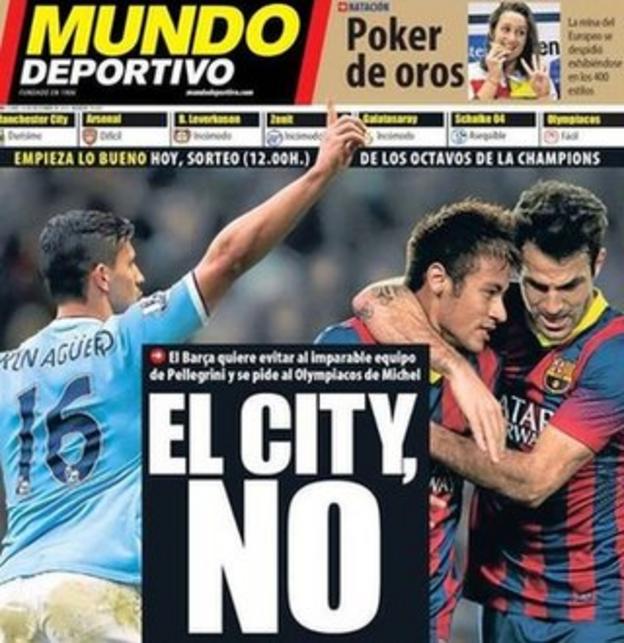 There has been plenty of wonderful football in the Premier League this season but there may not have been anything better than this. The wonder was it only produced a lone goal from Aguero.
White Hart Lane's press box offers an unusually low, close-up view and to watch this pair in action was to marvel. The pace of the game is merely the starting point.
Aguero, tough and mobile with speed and a deadly predatory instinct, was being supplied by the graceful Silva, who pulled passes out of the air before making his own decisive contributions.
The only cloud for City was a hamstring injury to Aguero, whose first-half performance was magnificent. He will be missed - but not as much as Pellegrini's rivals might think.
City scored four after his departure here, as they did when he went off with the score 2-1 in the 6-3 win against Arsenal in December.
Those early uncertainties away from home have gone. This was the only hurdle in the way and once it was successfully combined with that devastating home form there was only going to be one ending.
Mourinho brings Chelsea to Etihad Stadium on Monday. Will the manager so keen to accuse opponents of "parking the bus" drive his own into Manchester? It will have to be a mighty vehicle to stop City in this mood.
The argument that City are the best team in the world still needs the added weight a victory over Barcelona (and others in the Champions League) would provide, but they are certainly the best the Premier League has to offer.
Top of the table - and with every scrap of evidence suggesting they are now there to stay.