Jose Mourinho: Chelsea boss wrong on 19th-Century football
By Professor Matt Taylor
Football historian
Last updated on .From the section Football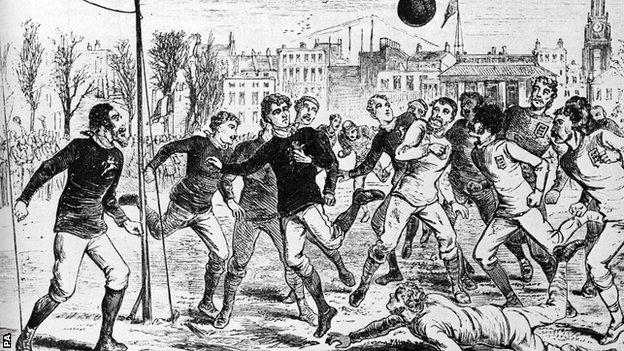 Jose Mourinho is an intelligent and articulate man and a talented manager, but he is not a historian.
Mourinho's remarks were clearly meant more as a general slur alluding to the dark, unenlightened pre-Premier League days of English football than an accurate comparison to the game's Victorian past.
But he might be interested to know that 19th-Century football was actually characterised as much by attacking and sportsmanship as by dour, defensive play.
How did a 19th-Century football team play? Well, it varied. It depended on what sort of team it was and at what point in the 19th century. From the foundation of the Football Association in 1863 to the early 1880s, British football at the highest level was dominated by teams of gentleman amateurs, many of whom had learnt the game at public school and university.
Football in this period was a game to be played rather than watched. Players dribbled up the field until they lost the ball. Team-mates would back the dribbler up and then continue to try to move the ball to the opponents' goal. But they were not there to be passed to.
When an England colleague in the 1877 match against Scotland complained to the Hon Alfred Lyttleton that his dribbling was excessive, and that he was not passing to team-mates in space, Lyttleton is said to have replied: "I am playing purely for my own pleasure, Sir!"
As football became more popular, and spread to the working classes, the passing game gradually replaced the dribbling game. Teams from Scotland and the north of England were influential in developing a new style of play based on passing combinations.
In the 1883 FA Cup final, Blackburn Olympic perplexed the Old Etonians by hitting long cross-field passes from wing to wing. They had also caused a stir by preparing for the match at a training camp in Blackpool, something that shocked the Etonians and their supporters.
Olympic won 2-1, took the cup north for the first time and changed the game forever. Professionalism was legalised in England in 1885. The best clubs became businesses and from 1888 began to compete in the Football League. Spectators and the press wanted to see good play but increasingly they also demanded a winning team.

How defensive were these teams? During the 1870s, it was not unusual for teams to line up with six or seven forwards. Their main priority was to attack, with defending left predominantly to two backs.
Over time, many teams chose to move one of their centre-forwards into a deeper position. This became the centre-half, who was to be the pivotal figure in a 2-3-5 formation - the so-called 'pyramid' system - that became standard from the late 1880s.
Some traditionalists bemoaned the move away from all-out attack. One Scottish writer condemned those clubs who kept two defenders close to their own goal merely, he suggested acerbically, "to keep the goalkeeper in chat". Another team from Ayrshire was reproached for only attacking with nine men.
Defensive tactics such as the 'one-back game', in which a full-back would drop into a deep defensive position to limit long forward passing, were considered unattractive and even unsportsmanlike. But they were defended by club directors and officials, such as Blackburn's John Lewis, who reminded critics that the main objective of league clubs was to win rather than please the spectator. And even the so-called 'defensive' teams, we should remember, were generally playing with five forwards.
Football in the 19th century was also characterised by a moral code - often associated with amateurism - that decried cheating or even play that was contrary to the spirit of the game.
The famous Corinthian club, for instance, opposed the penalty kick when it was introduced in 1891, and are said to have actively resisted the new law by deliberately shooting wide when they were given a penalty and withdrawing their goalkeeper if one was conceded.
That is not to say gamesmanship and time-wasting did not take place, of course. It almost certainly did. But football in the 19th Century was varied and complex and changed over time.
The best teams were described as "scientific". Being scientific was not only about being skilled and technically proficient but also about employing successful strategies and tactics.

The first great football tactician was William Suddell, manager of the Preston 'Invincibles' who won the first league and cup double in 1889. He used a blackboard, and sometimes chess pieces on a billiard table, to devise tactics and communicate them to his players.
The Preston team were known for their systematic style of play - not particularly fast but methodical and consistent. They were described as "machine like… in working the ball along the ground" during a match in 1885.
In the 1889 FA Cup final, the Wolves forwards were characterised by their "very hard and determined play", whereas the Preston team "plodded away with a distinct system", and ended up winning 3-0.
As a manager synonymous with pragmatism in the way he strives for success on the field, Mourinho would surely have approved of that.
Professor Taylor is a historian at De Montfort University's International Centre for Sports History and Culture and also an author of sports history books.