Jess Fishlock column: Sad that Jarmo Matikainen is leaving
Last updated on .From the section Football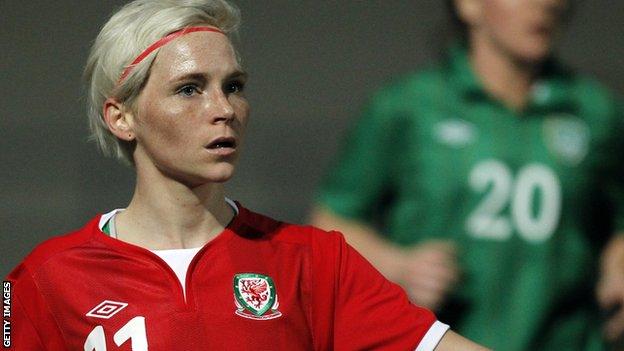 Wales captain Jess Fishlock reflects on the impending departure of national team manager Jarmo Matikainen and pays tribute to the impact the Finn has had in his four years at the helm of Welsh women's football.
What Jarmo has done for women's football in Wales has been extraordinary - it really has been phenomenal.
It's still really quite difficult to speak about him leaving really, from a personal and professional point of view.
I have nothing but praise and respect for Jarmo in every single way. He really is truly a great manager and an even better person - and that also counts for a lot.
It's a shame that he's leaving during the World Cup 2015 qualifying campaign, but that's just the way that the contract worked.
But I hope - and I know that it's something that Jarmo wants too - that he's still able to stay with the senior team throughout this campaign. That just sums up the sort of person that he is - he doesn't want to lave us in the middle of our campaign, not after we've had a good start.
We've got two huge games coming up in April against the second and third seeds, Ukraine and Turkey, so that's a vital double header and he wants to be there for that and I hope - and I speak for all of the girls I think - he can continue and see us through this campaign and go back to Finland after that.
But it's a tough situation right now - it's still pretty raw.
Jarmo has been phenomenal for us - not just the senior team but for the whole of Welsh women's football.
He was our first full-time time manager, and he wasn't just in charge of seniors he was in charge of the under 17s under 19s so he had a pretty big role.
He has given Welsh women's football an identity and a philosophy and surrounded us with a bit of professionalism.
Jarmo came in and changed that mentality. He changed the way that we worked, the way that we trained on and off the field.
If he said something he did it - he didn't say something and then do something completely different.
He just instilled a new character into us, and not just the senior team but the youth as well and he transformed the pathways as well for the young players coming through the system.
There's still work that needs to be done, but the amount of work Jarmo has put in and the things that have been put in place in the four years he's been with us has been phenomenal.
The senior team have had huge success over the past four years - we were so close to the play-offs in the Euros and our ranking have jumped higher.
Teams don't see us as easy pickings any more and that's the development we've gone through under Jarmo.
He came in and saw our potential and he saw what needed to improve and he's just put in so much effort and changed the way that we worked.
He'll be a tough act to follow.
We're hoping Jarmo will stay with the senior team through the qualifying campaign and after that I hope that the Football Association of Wales appoint someone in a full-time post again - someone who is able to build on what Jarmo has started.