Malawi appoint Chimodzi & Chamangwana as coach and assistant
By Frank Kandu & Ian Hughes
BBC Sport
Last updated on .From the section Football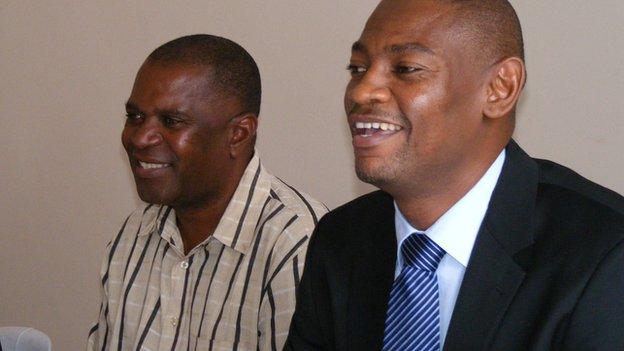 Malawi have appointed Young Chimodzi as head coach of the national team and Jack Chamangwana as his assistant.
It marks a huge turnaround from the Football Association of Malawi (FAM), who in January sacked the pair from the Flames' technical panel.
FAM president Walter Nyamilandu told BBC Sport: "They have been carefully thought of and well considered.
"We are happy to have recruited them to take us to the 2015 Africa Cup of Nations - we have confidence in them."
Chimodzi fills the role that has been vacant since the departure of Belgian Tom Saintfiet, who worked on a voluntary basis and left in September after failing to lead the country to the World Cup.
"It is a big challenge and I have to ensure that the expectations of the people match mine.
"I have to make do with whatever we have and I have to bring in youthful players to beef up the team. We need to have players who are dedicated and who want to in, not those who are just to pay for the national team. That is what is going to make us achieve whatever we are looking for."
The Malawi government have been reluctant to make funds available for FAM and Nyamilandu acknowledges the difficulty ahead of the side as they try to qualify for the 2015 Africa Cup of Nations.
"At the moment we have no money in our coffers but at the same time we need to embark upon our preparations because the Nations Cup qualifier will start in July/August," said Nyamilandu.
"But we have embarked on this project to qualify for the tournament in Morocco knowing that the government has committed to financing all six games. All we have to worry about is the preparations.
"And we have not given up on the search for sponsorship, nor have we given up on the government increasing our funding."
Some critics have suggested Malawi's financial problems have forced them into appointing a local coach rather than a more experienced foreigner.
But Nyamilandu has defended the choice of Chimodzi and believes the moment is right to give home-grown talent an opportunity.
"We discussed names with the executive committee and we went back to the government - everybody feels that it is time to go with a local coach.
"Sometimes you have to sense the environment, the mood, the season and it seems that the season now is for local coaches.
"And when you look at the local environment, Chimodzi and Chamangwana are the best coaches we have. Perhaps they will have a magic wand that will make us smile and make the team win.
"They have been successful wherever they have been and as long as they are well supported I do not see any reason why they will not be successful again."