Leeds United: Brian McDermott 'remains' as manager
Last updated on .From the section Football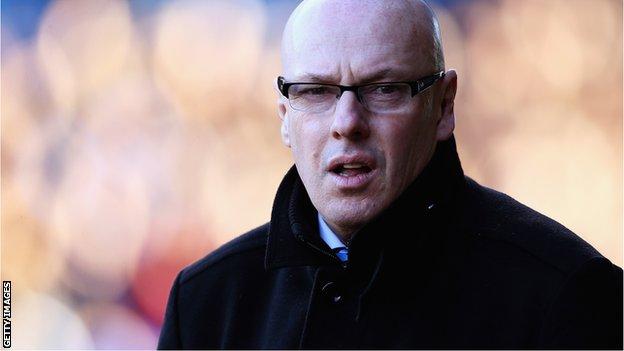 Leeds have said Brian McDermott will stay as manager, a day after being told he would be sacked by the club's prospective new owner Massimo Cellino.
Cagliari owner Cellino has agreed to buy a 75% stake in Leeds, subject to the deal being approved.
But, after a 5-1 win over Huddersfield, the club stated that McDermott would remain in charge at Elland Road.
"The club would like to make it clear that Brian McDermott remains our first-team manager," a Leeds statement said.
"He has not been dismissed from his post as has been suggested. We look forward to him continuing in his role with us in taking Leeds forward."
McDermott's assistant manager Nigel Gibbs says he was put in charge of the win over Huddersfield, which ended an eight-match winless run for the team who are now 11th in the Championship, three hours before the game.
The League Managers' Association said it was still waiting for clarification on McDermott's position.
An LMA statement said: "Brian received a call [on Friday] night from a solicitor informing him that Leeds United were terminating his contract as manager.
"[On Saturday] morning Brian received a further phone call from a director of the football club stating that the company on whose behalf the solicitor had contacted Brian are not the owners of Leeds United.
"In the circumstances, Brian was asked by the directors of the club not to take the match and we are awaiting clarification of the situation over the weekend."
Gibbs said the victory over Huddersfield was for McDermott, adding: "At 12.15pm [managing director] David Haigh asked me to take the team and I told the players.
"The team was prepared by Brian. It's his team, his performance and his victory. It's been unusual to say the least."
On Friday McDermott, who was appointed manager in April 2013, thanked Leeds fans for their support, describing them as "amazing" after being told he was sacked.
Former Middlesbrough player Gianluca Festa was linked with the position.
On Saturday, outgoing owners GFH Capital released a statement confirming the sale had been agreed but did not go into detail about the management of the club.
The statement read: "Following recent media reports and speculation, GFH Capital would like to confirm that it has agreed to sell a 75% stake in the club to Eleonora Sport Ltd, a company owned by the Cellino family.
"They have many years experience in football and plan to invest substantially in the club including the re-acquisition of Elland Road.
"The Cellino family come to English football with an ambition to support Leeds United financially to take it to the Premier League and a belief that the club can sustain top-flight status."
Dubai-based private equity group GFH Capital purchased the club for a reported £52m from Ken Bates in December 2012.
In February last year, the group said it was looking to bring new investment into the club, but rejected a takeover bid from a consortium involving former defender Lucas Radebe last November.
In an interview with the Sporting Intelligence website late on Friday, Cellino, the 57-year-old owner of Italian Serie A side Cagliari, said he had "no choice" but to sack McDermott. "I want a coach for the club, not a manager," he said.
"Gianluca [Festa] is a nice guy but he wasn't in my plans before all of this. Leeds are a special club who have had difficult times. But what is beyond question is that the club's fans are very, very special."
The Football League said on Saturday evening that it had begun "preliminary conversations" with Eleonora Sport Limited over the potential change of ownership.