Transfer window: Arsenal are underdogs without a new striker

By Martin Keown
Former Arsenal defender and BBC football analyst
Last updated on .From the section Football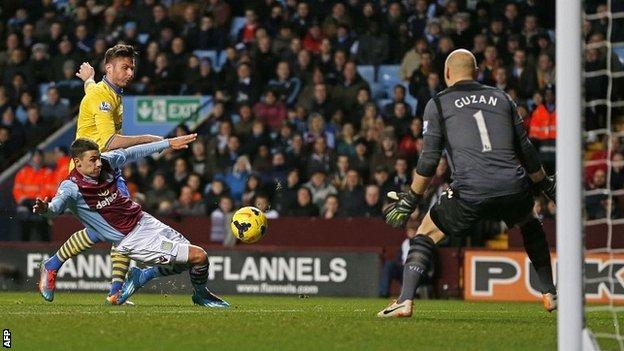 Arsenal's failure to sign another striker in the January transfer window surprised me - and makes them underdogs for the title.
The Gunners' firepower hardly compares to Premier League rivals Manchester City and Chelsea, and if their only fit striker, and top scorer, Olivier Giroud were to get injured it would spell disaster.
Arsene Wenger's side were linked with Schalke's Germany international Julian Draxler, but I can understand his logic in not proceeding - £37m looked a lot of money for a 20-year-old who is not proven in the Premier League. Manchester United paid that amount for Juan Mata, and the Spain international is the finished article.
But other than Giroud, Wenger's options look limited: Theo Walcott is out injured for the season and I feel Nicklas Bendtner is nowhere near fit enough. Yaya Sanogo is another striker on the treatment table.
Arsenal also have injury problems in midfield - Aaron Ramsey is out for six weeks, Jack Wilshere has hurt his ankle and Mathieu Flamini is suspended for three games - and they have addressed that with the loan signing of Kim Kallstrom [although he is now injured].
But another striker at the Emirates would have given the squad a lift, in the same way that the arrival of record £42.4m signing Mesut Ozil did last September.
The big problem for the Gunners is that, while their attacking options are slim, leaders Manchester City are raining goals.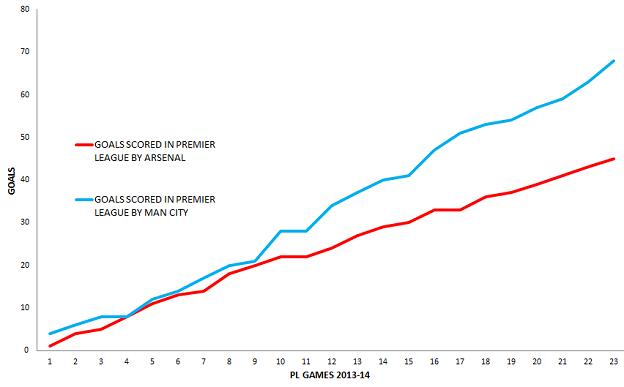 The City quartet of Sergio Aguero, Alvaro Negredo, Edin Dzeko and Yaya Toure have notched 43 league goals between them - only two short of Arsenal's league total. Manuel Pellegrini's side are like a tag team for goals and it's a job to work out who their best striker is, such is their quality.
If Chelsea boss Jose Mourinho decided to hit the attack button, his side also have as much firepower, but from different positions. Like Arsenal, they have had struggles with their forward line but their attacking midfielders - Eden Hazard, Oscar and Willian - are fantastic footballers.
There is another side to the story, of course. In many ways the decision to stick with what he has is typical Wenger.
The 64-year-old is very big on not wanting to upset the ambience of the squad and perhaps he felt that other options - such as Fulham striker Dimitar Berbatov, who joined Monaco on loan - were not suitable.
You could argue it also gives a boost to the players that are still there. They know the manager believes they are capable of winning the title and Wenger may have felt that if he brought in another striker it might affect the confidence of Giroud.
And certainly there are a lot of Premier League managers under more stress than Wenger, whose side are only a point off the top of the table.
This situation reminds me a little bit of the start of the season when Arsenal lost at home to Aston Villa in the opening game and fans were looking for a change or a new player.
The midweek 2-2 draw at Southampton that saw them lose the league leadership to Manchester City has sparked a similar reaction, so perhaps Gunners fans just need to trust that Wenger knows what he is doing.
I just hope he and Arsenal don't end up regretting the decision.