Leeds United: Massimo Cellino - many faces of Elland Road suitor
By Simon Austin
Football writer
Last updated on .From the section Football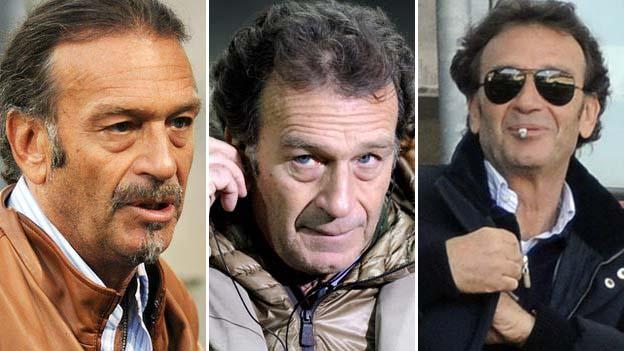 Massimo Cellino boarded a flight at Leeds-Bradford Airport on Sunday morning and began the journey back to his mansion in Miami.
Leeds United fans were left behind, scratching their heads and wondering whether the surreal and chaotic events of the past week had actually happened.
To summarise, Cellino:
Tried to put compatriot Gianluca Festa on the Leeds bench for Tuesday's game against Ipswich.

Sacked Brian McDermott on Friday

because the popular manager had "done everything to get fired".

Pleaded with McDermott to return on Saturday.
And all this before he has even become the official owner of the mid-table Championship club.
Cellino says he completed a deal to buy 75% of Leeds on Friday lunchtime, but the Football League have yet to decide whether he is a "fit and proper person" to own the Yorkshire outfit.
Fans of the Italian's "other club", Cagliari Calcio, can nod knowingly at all of this, because the 57-year-old is one of the most colourful, controversial and charismatic owners in Italian football.
Cellino looks like an ageing rocker and still plays rhythm guitar and drums in a band called Maurilos.
Last year, he sported a ponytail and intricate goatee, but now opts for a slightly more sober look, with greying hair to the collar.
Still, he often has stubble, a leather jacket, aviator sunglasses and, more often than not, a cigarette in his hand.
His superstitions include a fear of the number 17, which has posed the Sardinian a few problems.
Cagliari's stadium doesn't have any seats numbered 17 for a start. Instead, they are labelled 16b.
And when a league game against Novara was rearranged for 17 September, 2011, the press office was ordered to hastily release a statement on the club website.
In a bid to counteract any ill fortune that might come Cagliari's way, fans were asked to turn up for the match wearing purple, a colour Cellino believes is unlucky.
His rationale? That one negative cancels out another. Many of the club's fans obliged and the team won 2-1.
Cellino made his fortune from the commercial agriculture business started by his father, Ercole, and is known as Italy's "King of Corn".
He originally studied accountancy but left midway through his course to take over the business.
In 1992, he bought his hometown club, Cagliari, who have been in Italian's top flight most of the time since.
There have been some great highs - like reaching the semi-finals of the Uefa Cup in 1994 and the last four of the Coppa Italia - and some lows, mostly in recent years and relating to the stadium.
In 21 years at the club, he has sacked 35 managers.
Cellino, who has a deep, gravelly voice and tends to speak in an urgent, impassioned manner, is clearly very persuasive.

He talked Gianfranco Zola, one of Sardinia's favourite sons, into a return to the club in 2003, despite Roman Abramovich offering the striker far more money to stay at Chelsea.
And the results were impressive, with the forward helping Cagliari to return immediately to Serie A, where they have remained ever since.
The past few years have been tarnished by problems with the club's stadium and Cellino's personal life, though.
The owner has long wanted a new home for the club and has plans in place to build the Karalis Arena.
Work has been delayed by problems with planning and funding, though, and there are big doubts as to whether a move will ever happen.
For the last few games of the 2011-12 season, Cagliari played their home games in Trieste, a seaport some 500 miles from Cagliari.
Then they moved to the nearby Is Arena, which Cellino intended to redevelop, but it was deemed unusable and unfit for spectators, resulting in some games taking place behind closed doors.
For one match, against Roma, Cellino urged the fans to turn up anyway, which meant the game had to be abandoned. The league authorities weren't too pleased.
Now Cagliari are back at their Stadio Sant'Elia ground, which hosted England at the 1990 World Cup.
The whole episode seems to have diminished Cellino's passion for the club, though.
He recently allowed star player Radja Nainggolan to join rivals Roma, explaining wearily: "It's not an issue of money.
"We play in a stadium worthy of Serie C and the players had to travel all around Italy for two years because we weren't allowed a home stadium. I can't keep Radja in these conditions."
Cellino still faces court action.
Last February, he and the mayor of Quartu Sant'Elena, Mauro Contini, were arrested on suspicion of attempted embezzlement and false representations regarding the development of the Is Arena.
The arrest warrant described Cellino as a man "of marked criminal tendencies... capable of using every kind of deception to achieve his ends".
He was held in custody at Buoncammino Prison for 16 days, during which time a group of Cagliari fans stood vigil outside, singing his name and displaying messages of support.
The players dedicated subsequent wins over Pescara and Torino to the owner.
Cellino already has two criminal convictions, making it questionable whether he will pass the Football League's ownership test.
In 1996, he was given a suspended 14-month sentence after being convicted of deceiving the European Union and Italian Ministry of Agriculture out of £7.5m.
In 2001, he received a 15-month suspended sentence for false accounting at Cagliari.
Frustrated in his ambitions for his beloved hometown club, Cellino has been looking to buy an English team for the past few years.
In 2010, he tried to buy West Ham and told me his first move would be to sack their manager - his former darling at Cagliari, Zola.
This tells you a lot about his mercurial and unpredictable nature.
David Gold and David Sullivan were eventually preferred bidders, leaving Cellino outraged.
He turned his attentions to Crystal Palace, a move which did not reach fruition, and is now close to buying Leeds, having claimed two weeks ago he was just an adviser to another consortium.

Asked why he performed an apparent U-turn over McDermott, Cellino claims it is current owners GFH who did not want him.
"GFH are still running Leeds United," he said. "They did not want Brian as manager but didn't have the courage to sack him.".
The Italian will spend the coming days in Miami, waiting anxiously for the Football League to decide whether he is fit and proper to buy one of English football's most famous clubs.
Life under him would probably be chaotic and controversial.
But never, ever, dull.