Neil Lennon: Tynecastle abuse 'unsavoury', says Celtic manager
Last updated on .From the section Football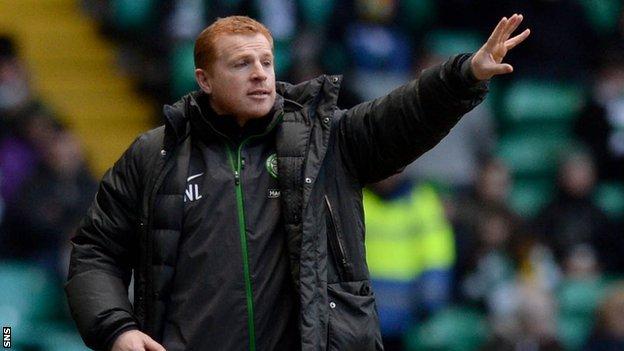 Neil Lennon will let the Scottish football authorities decide whether any action is taken over the abuse he suffered at Tynecastle on Saturday.
"I'll leave that to the powers that be, if they want to speak to me," he said.
"I don't know what action can be taken or if there's any CCTV footage of it. It's unsavoury and uncalled for."
Scottish Professional Football League chief executive Neil Doncaster has released a statement apologising to the Celtic manager and condemning the fans' behaviour.
Both Celtic and Aberdeen, whose fans were in the main stand, described the behaviour as "unacceptable".
The Dons, who reached their first cup final since 2000, pleaded for supporters to report those responsible.
Lennon told BBC Radio Scotland: "It's very uncomfortable and it's unsavoury.
"I don't want to take anything away from what is a great day for Aberdeen. I don't think that's fair and I can't apportion any blame to them.
"It's just a section of supporters who probably have had far too much to drink. I don't think it's sectarian either, by the way, I just think it's drink-fuelled and, yes, it is unacceptable."
Speaking before his side's 1-0 Scottish Premiership win against St Mirren, Lennon explained the details of what had happened in the stand on Saturday.
"I'm sitting in the directors' box and I'm actually with a lot of the Aberdeen staff." he said.
"I'm sitting next to Billy Brown and two of my own staff. You get the usual abuse, which is fine, you can live with that.
"But then I was aware that a coin flew past my head and actually hit an Aberdeen member of staff on the back.
"He had a padded jacket on, so he was aware that something's hit and he handed the coin to the stewards.
"At half-time, the stewards moved us, which was fine, they were looking out for us. We moved to a row just in front of the press box.
"When Aberdeen scored the third goal, I don't know what it was, a drink of some sort, again it came flying over my head and missed me and landed in the press box and hit a couple of the journalists there."
Doncaster released his statement after Inverness Caledonian Thistle's penalty shoot-out win against Hearts in the other League Cup semi-final on Sunday.
"We'd like to congratulate Aberdeen and Inverness Caledonian Thistle on reaching the Scottish League Cup final after two thrilling semi-finals this weekend," he said.
"Unfortunately, we understand that the Celtic manager Neil Lennon was the subject of abusive treatment by a minority of fans during yesterday's game.
"Given this occurred at one of our games, we'd like to apologise to Neil Lennon for this utterly unacceptable behaviour.
"The SPFL is united in it's total condemnation of this type of incident, which has no place in a football stadium nor society overall."