World Cup 2014: Can Julio Cesar still be Brazil's number one?
By Tim Vickery
South American football writer
Last updated on .From the section 2014 Fifa World Cup135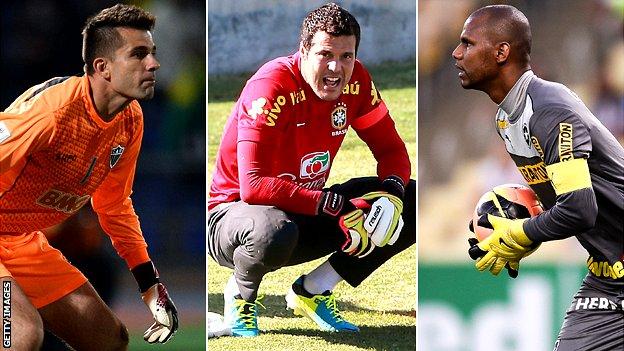 One of the most memorable interviews I have done was with Taffarel, Brazil's goalkeeper at the time, as the squad flew out to a warm-up tournament before France 98.
It was only a quick chat, but the fact that it happened at an airport gave it an extra edge; in a public space, with excitement rising as the World Cup approached, it was much easier to grasp the truth about perhaps the most pressure-riven job in sport. Perform badly, or just make one significant mistake, and Brazil's goalkeeper will be letting all these people down.
Taffarel made it fairly clear, as much with his body language and what was said between the lines, that he was not entirely confident about his team's chances. He seemed doubtful - with full justification as it proved - that Brazil would defend with the same solidity which had proved so important in winning USA 94. His subsequent actions bore out his doubts; a few weeks later he fixed up a move to Galatasaray. Had he waited until after France 98 he may well have got a better deal, because he had a fine tournament. But going into his third World Cup, he was well aware of the risks.
Brazil's goalkeeper can often be on a hiding to nothing. There are few chances to play the hero, and lots of opportunities to be the villain. 1950 keeper Barbosa was never forgiven for letting in the deciding Uruguayan goal at his near post.
Poor Valdir Peres in 1982 is another example. The first shot fired at him in that World Cup was a goalkeeper's nightmare - the ball that bounces treacherously in front, always more difficult than it looks. He let it squirm through him, and Brazil were a goal down to the USSR. They hit back to win, but Valdir Peres never fully regained his confidence - not easy for a keeper when most of the action is taking place at the other end. And if the scoreline is tight, it means that every decision taken by the keeper is a possible catastrophe.
Julio Cesar knows all about it. He was immense for Brazil in the 2010 qualifiers. Come the tournament, one ill-judged move off his line gifted the Netherlands their equaliser in the quarter-final and changed the entire complexion of the game. Concentration has to be honed to perfection, and the keeper needs complete, instant confidence in the decisions he takes - far easier, of course, if he is getting a regular game for his club.
This is where the Julio Cesar situation is starting to become alarming. A year ago it was by no means an obvious decision for Brazil coach Luiz Felipe Scolari to recall the Queens Park Rangers keeper. But Scolari felt his team needed more experience, and the move proved a masterstroke. In the early games, when Brazil were defending badly, Julio Cesar stood up strong, and he was a safe pair of hands when they tightened up to win the Confederations Cup.
Seemingly unwanted at Loftus Road, though, problems loomed when he failed to get a move during the summer transfer window. Scolari swatted away the speculation. Back in September he announced that come what may, Julio Cesar would be included in the World Cup squad.
He did not, however, guarantee that the QPR man would be first choice. How could he, if the keeper was not getting a regular game? But at that stage, Scolari could not possibly have imagined that another transfer window would open and shut without any progress.
His favourite keeper is not left totally on the shelf, however. The January window is a European affair. He can still move elsewhere - indeed the favourite scenario has always been that of a six-month loan back to Brazil.
But this is not quite as simple as it once might have seemed. A new, improved TV deal was more temptation than Brazil's clubs could resist. They have overspent, and are cost-cutting at the moment - all the more so since there is little meaningful club football until after the World Cup. The State Championships, being played at present, draw pitiful crowds. The national league does not get under way until the end of April, and anyway is currently beset by legal doubts.
The most likely option, then, would be a club disputing the Copa Libertadores, South America's Champions League, where the qualifying round is currently halfway through and the group phase kicks off next week.

But here, too, there are few options. Botafogo have Jefferson, Brazil's second-choice keeper. Cruzeiro are captained by Fabio, an excellent keeper cruelly overlooked by the national team. Reigning champions Atletico Mineiro have Victor, the hero of last year's triumph. Flamengo have a well-established number one in Felipe. Atletico Paranaense are a possibility, though their keeper Weverton performed well last year. But they, too, are cutting costs, and anyway, first they need to overturn last week's 2-1 defeat to Peru's Sporting Cristal in the qualifying round.
All of which means that the most obvious choice is Gremio of Porto Alegre. Last year their goalkeeper was the veteran Dida, who has made a successful comeback after flirting with retirement. But he has moved across town after rivals Internacional offered him a two-year contract - which opens up an interesting vacancy.
Last week, Julio Cesar said that he was in advance stages of negotiations with the club. Gremio, however, were quick to deny it. It would seem that the club are not interested in a short-term loan, and may not be able to afford something more permanent.
It need not be Brazil, of course. Julio Cesar could sort out a deal with a club in the Libertadores from somewhere else in the continent. And if QPR do not want him, then it is surely in their interests that a club keeps him active and pays any percentage, however small, of his considerable wages. As for Julio Cesar, one would think that he, too, would be willing to show plenty of flexibility in order to get a regular game and ensure he stays Brazil's first-choice goalkeeper for the World Cup - even if the post carries with it the risk of going down in football history as the villain.
Comments on the piece in the space provided. Questions on South American football to vickerycolumn@hotmail.com, and I'll pick out a couple for next week.
From last week's postbag:
Is there any chance of a call-up to the Argentina World Cup squad for Wily Caballero and Mateo Musacchio? Both have been consistently solid in La Liga yet seem to be out in the wilderness despite the lack of depth in these positions. Gavin Blain
It's hard to see Musacchio getting in. Coach Alejandro Sabella has his centre-backs, so it would take a lot of injuries to get him in front of Fernandez, Garay, Basanta, Campagnaro, Coloccino, Otamendi and maybe a couple of others.
Caballero is more interesting because, like Brazil, Argentina now have a problem with the inactivity of their first-choice keeper. Sergio Romero is not getting a game at Monaco. His reserve Andujar is not in good form at Catania, and no one in their right mind would want Orion of Boca Juniors as their World Cup keeper. Caballero, playing well at Malaga, is an option that seems to be gaining increasing attention.
In last week's article you mentioned of the possibility of Ecuador playing Edison Mendez in the space behind centre-forward Felipe Caicedo. There's also the option of a small number 10 by the name of Alex Colon who just joined Pachuca in Mexico. He's not had a proper runout for the national team but he's good on the ball and can strike them from distance too. He's our first real playmaker since Mendez. Have you managed to get a closer look at him at all? He's 27 but showing real signs of quality in Mexico. Daniel Penafiel
I watched him a few times last year for Deportivo Quito, and enjoyed his left-footed sharpness and the surprising power with which he can strike the ball. Coach Reinaldo Rueda brought him into the squad for a couple of games last year, but I think he considers Colon too lightweight to make an impression at the highest level. I think, though, that he might well be worth looking at as an impact substitute to be brought on against tiring defenders.