Hearts take 'big step' towards exit from administration
Last updated on .From the section Hearts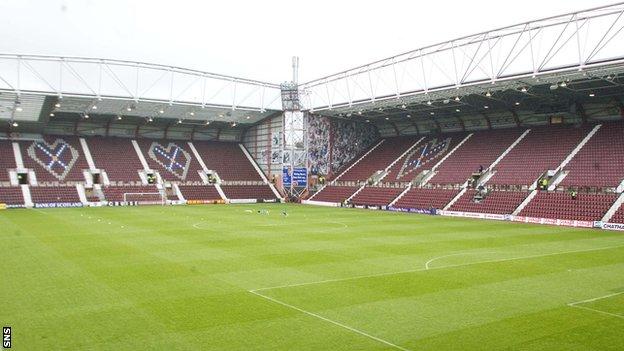 Hearts moved a "big step" closer to exiting administration after majority shareholder UBIG agreed to transfer its 78.97% stake in the club to fans.
Administrator BDO has reached a draft deal with lawyers in Lithuania, who are overseeing the bankrupt institution.
The proposal needs to be ratified at a UBIG creditors' meeting, scheduled to take place in late March.
Should that happen, BDO will begin the process of handing over ownership to fans' group Foundation of Hearts (FoH).
Bryan Jackson, joint administrator of Hearts and a business restructuring partner with BDO, told BBC Scotland: "From day one, I always thought procuring the shares was going to be the biggest obstacle. So, to me, it's a really big step.
"I think it takes us from 50% of the obstacles overcome to probably 75%."
Hearts, who are 17 points adrift at the foot of the Premiership, entered administration on 19 June with debts close to £30m and started this season with a 15-point deduction.
FoH and its financial backers are offering about £2.5m for the club, with the majority going to Ukio Bankas, which has a 28.79% stake in the club but also holds a charge on Tynecastle Stadium.
For the purpose of negotiations, Ukio's holding has been collated with UBIG's, and Ukio representatives have served notice to BDO they agree with the draft proposal to transfer the combined stake.
Jackson said: "What we have to do now is get a sale and purchase agreement concluded as quickly as we can and then it will all be subject to the consent of Ukio's creditors and UBIG's creditors.
"We are dealing with two different administrators in another country, with different legislation, so it makes it really difficult.
"Timescales can change and that is the downside as our cash flow gets tighter."
FoH chairman Ian Murray MP described the draft proposal as "very welcome news".
He added: "We are edging closer to getting the club out of administration and we are now talking about when rather than if.
"This is a very significant hurdle overcome and we are delighted but more work is required."
Hearts missed out on a place in the League Cup final with Sunday's penalty shootout defeat by nine-man Inverness, therefore losing out on extra revenue.
"We hadn't budgeted for reaching the final," Jackson said. "But the reality is if we had got through, it could have covered us for at least another month.
"If we get to the stage when we are running out of cash but we know we are going to get over the line, we'll obviously look at other ways of trying to fill that gap."
UBIG, which was controlled by former Hearts owner Vladimir Romanov, had its assets frozen in April after declaring insolvency and is now in the hands of liquidators, while Ukio collapsed nearly a year ago.