Michael Laudrup: What went wrong at Swansea for the Dane?

By John Hartson
Former Arsenal, West Ham, Celtic and Wales striker
Last updated on .From the section Football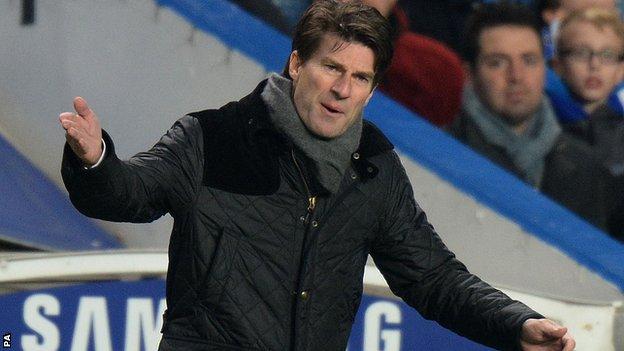 Swansea's decision to sack boss Michael Laudrup four days before facing rivals Cardiff has ensured this weekend's south Wales derby is shaping up to be an even bigger game than normal.
Under Brendan Rodgers and then Laudrup, Swansea have had two excellent seasons in the Premier League, capped by finishing ninth and winning the Capital One Cup last year. But since winning that trophy 12 months ago, Swansea have only won eight of 35 Premier League games, and lost 18.
That is relegation form.
The Dane leaves a side in 12th place, but only two points away from the bottom three. After their success last term, I never in a million years expected them to be in this type of trouble now.
So what went wrong for Laudrup?
Chairman's choice
Given where Swansea find themselves, it is not a massive shock. They have won one in 10, and football is very cut throat - it is a winning business.
My manager at Celtic Martin O'Neill said to me that even the best managers are only three or four games away from the sack. The fans get very disgruntled and start asking questions.
Replacements Garry Monk and Alan Curtis are Swansea through and through; they have got years of experience at the club between them and they will rally the troops.
The fans will be right behind them from day one and the derby is a perfect game in many ways. It will be a brilliant atmosphere.
Laudrup has brought great success to Swansea. Whichever club he joins next will be inheriting a very good manager.
He is part of Swansea's history and he can be proud of the job he has done.
One or two things this season have gone against him and the threat of relegation from the Premier League is so great now that clubs feel they have to act. We have seen it from Sunderland and Cardiff this season and chairman Huw Jenkins will be hoping that it will keep his club up this season.
Jenkins is very shrewd and wise. The last three or four appointments he has made have been spot on - the next one from him will be exactly the same.
Missing Michu

The obvious change to Swansea's play this season has been the loss of forward Michu through injury.
The 27-year-old was immense in his first season last year, and by early February had already scored 15 times in the league, with Swansea collecting 34 points from their first 24 games.
Michu's final total of 18 Premier League goals last season was only bettered by Robin van Persie, Gareth Bale, Luis Suarez and Christian Benteke.
But the Spaniard has only scored twice in the league this term, as knee and ankle injuries have restricted him to just 12 Premier League appearances.
Record signing Wilfried Bony has come in and done well, but while he has scored 16 times this season, he's only managed seven in the league and Swansea are 10 points worse off than at this stage last season.
Bony was brought in to play ahead of Michu, and not having the Spaniard available has changed Swansea's style of play. Watching them in the last 10 or 15 games you have seen Bony isolated up front on his own, and it's not his game to drop off and link with the midfield, which was Michu's strength.
Michu was great last season at drifting around between the lines and he was so hard to pick up. With Bony on his own, there was a change of shape, and their play became a bit predictable.
Swansea still have lots of possession, but it's that cutting edge that they lack. They can be easy to play against.
Losing Ki
Another man who has been sorely missed by Swansea in recent months is South Korean midfielder Ki Sung-Yueng.
Laudrup decided to let him go on loan to Sunderland last summer as he brought in Jonjo Shelvey from Liverpool, but Ki has arguably been the Black Cats' best player under Gus Poyet and that decision now looks like an error.
Ki brings real energy to the midfield and he gets the ball moving quickly. Shelvey is a goal threat - he's Swansea's second top scorer in the league - but he can also be careless in possession and Ki gives them a better shape.
He has come on leaps and bounds with another full season in the Premier League and maybe he can come back into the Swansea side next year.
Strange signings
Swansea ended January and start February with a run of four games against teams around them - Fulham, West Ham, Cardiff and Stoke.
They had the chance to strengthen the squad at the end of the transfer window and really push on.
They may have beaten Fulham in the first of those games, but they made some strange signings before the defeat at Upton Park, which was as badly as I've seen them play in 18 months.
Look at Saturday's opponents, Cardiff. They signed Wilfried Zaha and Kenwyne Jones in the last week of January and both played a big part in their win against Norwich last weekend.
Zaha is a £10m winger, he has a point to prove and has aspirations of making the Manchester United and England squads, and the moment he came on he lifted the whole crowd.
A signing like that would have done Swansea the world of good and helped to replace Michu. Instead they signed Marvin Emnes from Middlesbrough and David Ngog from Bolton.
Emnes, to be fair, did well at Swansea a few years ago, and scored the winner in a derby game against Cardiff. But that was in the Championship and I doubt either player's arrival has excited the home fans.
They have scored five goals between them this season in the second tier.
Great expectations
In many ways Laudrup was a victim of his own success.
He leaves a Swansea side that are in mid-table and still in the FA Cup and Europa League. It was not a disastrous performance, and you have to remember that the club were in the fourth division and playing at Vetch Field 10 years ago.
But when you win a trophy and spend £12m on a striker - which would have been unthinkable just a few years ago - you raise expectations among the fans, the media and the boardroom.
Feeling the pressure?

You never want to lose a derby and a win for Cardiff would take them level on points with their rivals. As the away side, and with a derby win under their belts already this term, they have nothing to lose at the weekend and will thrive on the disarray at the Liberty Stadium.
Swansea did not turn up in the first game back in November, and Cardiff thoroughly deserved to win 1-0. They controlled the game.
Both sides have spent a lot of money in recent years, have players on very good wages and big contracts and relegation would be unthinkable at Swansea. Financially it would be crushing.
I said at the start of the season that Cardiff would go down and I stand by that, although they have given themselves a chance with the players they have signed.
It is possible of course that both sides will go down but I cannot see it - even if Tuesday's developments reveal the very real worry at Liberty Stadium.