Man Utd and Chelsea back 'Football v Homophobia' campaign
By Alistair Magowan
BBC Sport
Last updated on .From the section Football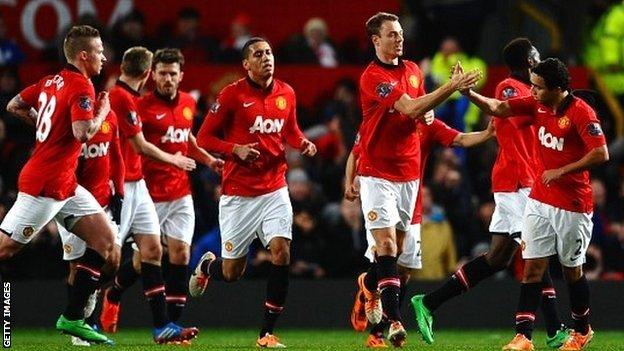 Manchester United and Chelsea have joined the 'Football v Homophobia' campaign for the first time as the group seeks to gain support from 50% of professional clubs in England.
Of the Premier League's 20 teams, 11 are involved but only 17 from the Football League's 72 clubs plan a "visible anti-homophobia stance".
Manchester City, Liverpool, Arsenal and West Ham have all backed the scheme.
"We're passionate about supporting this," said West Ham's Kevin Nolan.
"We hope that it sends out a message that there is no place for discrimination in football, nor in any sport."
The Hammers kicked off a month of action in February by wearing Football v Homophobia T-shirts before their 2-0 win over Swansea last Saturday.
Other top flight clubs such as Aston Villa, Crystal Palace, Everton, Stoke and Sunderland are set to follow suit via a range of promotional methods.
The idea of the campaign is to challenge homophobic behaviour while welcoming more lesbian, gay, bi-sexual and transgender (LGBT) people to football.
Last February, 31 clubs showed their support, with eight of those from the Premier League.
Earlier this season, another anti-homophobia group, Stonewall, encouraged players to wear rainbow laces but few clubs took part after several claimed the promotion was poorly planned.
There have been no openly gay footballers playing in professional football in England since Justin Fashanu in 1990.
Former Leeds winger Robbie Rogers and ex-Aston Villa midfielder Thomas Hitzlsperger waited until they had stopped playing before revealing they are gay.
But Football v Homophobia co-director Megan Worthing-Davies said she hoped the campaign would avoid football's obsession with players coming out and concentrate on building a more tolerant culture.
Brighton & Hove Albion fans have previously been subjected to homophobic abuse from opposition supporters while some professional players have posted homophobic messages on social media websites.
"We are extremely happy to see some of the biggest clubs in the country showing leadership on tackling homophobia and hope that their involvement will encourage a critical mass of clubs to get on board with the campaign," said Worthing-Davies.
Sports Minister Helen Grant added: "Football v Homophobia is raising the awareness of important issues and provides ways for everyone in football to get involved.
"Over the last few years, the government has worked hard to help sport tackle prejudice through the Charter for Action Against Homophobia and Transphobia.
"We were pleased to see all the Premier League and Football League clubs pledge their support to the charter and we hope everyone in the game will continue their support by taking action with the Football v Homophobia campaign."
A Chelsea statement said: "We welcome the Football v Homophobia campaign and will be working with the organisation as part of our own building bridges equality initiative."