Leeds United: Owner GFH Capital set for talks with new bidder
Last updated on .From the section Leeds United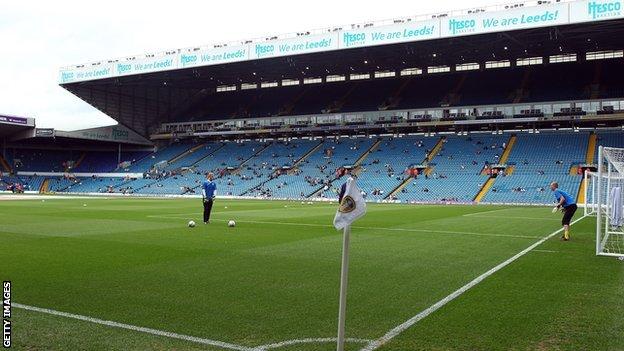 Leeds chairman Salah Nooruddin has insisted that GFH Capital remains the club's owner - as the group prepares for fresh takeover talks on Tuesday.
Italian Massimo Cellino has agreed to buy a 75% stake in the club but has yet to receive Football League approval.
Now talks are planned in London with another interested party.
The Sport Capital and Together Leeds consortiums have teamed up to buy the club, dismissing Cellino's bid and promising to match his offer.
The latest development is yet another twist in the ongoing saga surrounding the ownership of the mid-table Championship club.
It follows the reinstatement of Brian McDermott as the club's manager after the controversial Cellino, who also owns Serie A club Cagliari, attempted to sack him on Friday.
It also comes after Chris Farnell, the lawyer working for Cellino, was escorted from Elland Road on Monday by managing director David Haigh, director Salem Patel and security staff.
Nooruddin has also issued an email to Leeds United staff in an attempt to bring some clarity to the situation and informing them not to take instructions from anyone other than GFH.
"You will all, of course, be aware of the speculation surrounding the ownership of Leeds United FC and I wanted to let you know that GFH Capital currently retains its ownership of the club," wrote Nooruddin.
"The existing board remains in control of the club and David [Haigh] is the managing director.
"No instructions or directions whatsoever should be taken from anyone outside the existing management structure and the board.
"Please do not hesitate to contact me or any senior member of staff should any issues arise.
"With thanks as always for your support. We all look forward to ending the current round of speculation and to marching on together as Leeds United FC."
BBC Radio Leeds understands GFH will meet the joint consortium in London on Tuesday.
Adam Pope, the station's Leeds United commentator, added that GFH insists the club will not go into administration while it is in charge.
A proposed takeover by Sports Capital, which involves Haigh and Andrew Flowers, the managing director of club sponsor Enterprise Insurance, fell through last week because of a lack of financial backing.
They have now joined forces with the Together Leeds consortium, led by local businessman Mike Farnan and which also includes Welcome to Yorkshire chief executive Gary Verity and former Hull City chairman Adam Pearson.
Following his reinstatement, McDermott told a news conference on Monday he would not walk away from the club, despite the weekend of uncertainty over his future.
"Some people in the game said to not go back, but there's no way I could leave the staff and supporters," he said.
Cellino has previously said he completed a deal to buy 75% of Leeds on Friday lunchtime.
Meanwhile, Leeds City Council leader Keith Wakefield has written to the Football League to voice his dismay at the series of events, which he described as "bizarre" and "a debacle".