Pellegrini v Mourinho: Chelsea boss outwits his Man City rival

By Phil McNulty
Chief football writer
Last updated on .From the section Football1344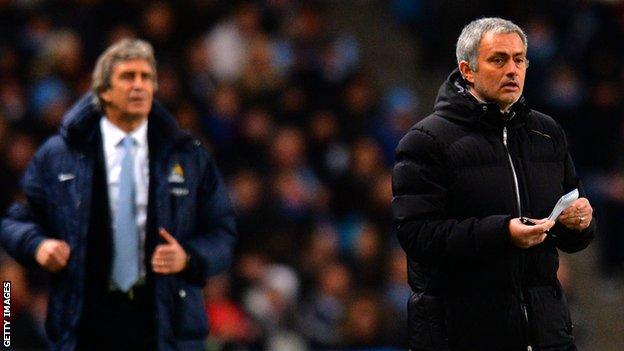 Jose Mourinho called Chelsea "a little horse" compared to Manchester City's thoroughbreds - but no-one is buying the obvious smokescreen he is trying to build around his Premier League title aspirations.
And Mourinho has only got himself to blame if the lines he continues to dish out fail to find any takers after his brilliant tactical masterclass, carried out to perfection by his players in a 1-0 win at The Etihad that completed a league double over City, showed how seriously he and Chelsea must be taken.
Manuel Pellegrini, an old foe who received an unflattering assessment from Mourinho when the Portuguese succeeded him at Real Madrid, is presiding over a team whose form has drawn comparisons with the best in the world.
Mourinho, however, remains the itch Pellegrini cannot scratch as Chelsea ended City's run of 11 straight Premier League home wins that boasts 42 goals - the first time they have failed to register in such a fashion since November 2010.
The match was billed as Chelsea's "Special One" against the 60-year-old they call "The Engineer" - so how did they fare?
Tactics
This was a game that cemented Mourinho's reputation as one of the modern game's great strategists. This was the coach who refused to park the bus and was rewarded with his finest moment since returning to Stamford Bridge.
The talk about Mourinho erecting a defensive screen to stifle free-scoring City proved to be nonsense. Yes, Chelsea were fiercely disciplined at the back, with John Terry and Gary Cahill outstanding, but the key to this win was a counter-attacking plan that played on City's nerves and vulnerabilities.
Mourinho used Nemanja Matic and David Luiz to anchor midfield, so releasing Eden Hazard, Willian and Ramires to run at City in support of Samuel Eto'o. Terry revealed days of specific planning had been put in by Mourinho and it showed.
Pellegrini's default option is to attack - and if that does not work, attack some more. It has worked brilliantly for so much of the season but not here. Barcelona, forthcoming Champions League opponents, will have taken note of Mourinho's success.
He made a mistake by detailing Martin Demichelis in central midfield to cover the influential Fernandinho's absence. Jack Rodwell may only just be coming back from another injury but it says a lot about his City career that he was not selected given Demichelis's toils.
Brazilian Fernandinho has become increasingly important, not just for his own contributions but also for the protection he affords Yaya Toure, freeing him to make destructive runs. How he was missed.
Mourinho knew how City would play and simply picked them off with his usual combination of meticulous defensive organisation and ability to find opponents' flaws. A hands-down victory for Mourinho.
Technical area demeanour
Mourinho took less than 10 seconds to engage fourth official Chris Foy in debate and his body language throughout was in sharp contrast to the understated Pellegrini.
Chelsea's manager was quick to make his point about an early heavy foul on Eden Hazard, scribbling furiously on a notepad and urging concentration from his players, applauding moments of work-rate as he edged closer to the touchline.
The occasional theatrics prompted some colourful chants from Manchester City's fans, the more repeatable being "You're worse than Allardyce" in reference to his condemnation of West Ham's "19th Century Football" last week.
Mourinho also raged as Matija Nastasic escaped a red card for pulling back Oscar but was ecstatic moments later when referee Mike Dean blew the final whistle.
He punched the air before turning to shake hands with Pellegrini. With that, Mourinho showed just how much he wanted this victory, and how important he felt it was.
Mourinho chest-bumped members of his staff, greeted his players like heroes, then marched down the tunnel in triumph.
Pellegrini does not go in for such ostentatious shows of public emotion and never will. He remained impassive almost at all times, even as City slid towards a loss that stripped away a layer of their invincibility.
He spent time sitting in his dug-out and usually stood arms folded - impassive unless it was to give instructions to substitute Stevan Jovetic.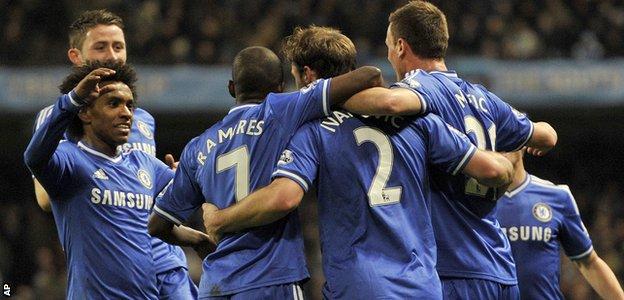 Post-match mood
This could also be labelled the "chalk and cheese" category - Pellegrini as straight man while Mourinho generates headlines by the sentence.
Mourinho was at his mischievous best (or worst depending on how you view him), calling Chelsea the "little horse" in need of milk and education on how to jump, playing down their title chances but saying the little horse hoped to race next year. No-one in the room quite believed Mourinho when he wrote off Chelsea's chances. Does he really believe it himself?
As he warmed to his task, he painted a colourful background scene of Chelsea masseur Billy McCulloch giving the final team-talk by growling at his players in Scottish tones Mourinho could not understand, before receiving a round of applause from the squad.
Mourinho was playing to the gallery, a gallery that had witnessed a performance that shows Chelsea are still in title contention.
Pellegrini presents the straightest of bats and the fact there was little meat on the bones of City's loss in his post-match briefing was neither here nor there. He is always like this - win, lose or draw.
He suggested, nonsensically, that City deserved a draw before lamenting injuries to Fernandinho, Sergio Aguero, Samir Nasri and the less-than-100% Alvaro Negredo. Valid points but an argument that loses weight given the size and scale of spending lavished on Pellegrini's squad.
Pellegrini even suggested Chelsea had luck. He was right. They had bad luck, striking the woodwork three times as they searched for a second goal.
In media terms, Pellegrini is the anti-Mourinho. Quietly-spoken, with expression barely changing, any disappointment well hidden. It is an equanimity that serves him well on nights such as this.
Title chances
Pellegrini made it clear how he felt about this loss, saying: "For our team it was not a decisive game." He has been realistic throughout, refusing to get carried away as City swept all-comers aside. His view on the title has never changed. The serious work remains to be done.
Mourinho, as we have said, is at great pains to suggest Chelsea cannot win the Premier League this season but will be contenders next year.
So Jose has entered a competition he does not think he can win, even though they are only two points off leaders Arsenal? No - not sure I'm falling for that either.
I picked Chelsea to win the title before the start of the season although I now believe it is still Manchester City's to lose but Mourinho writing off his own team's chances has a distinctly hollow ring for such a serial winner.
To-do lists
Pellegrini has a wonderful squad at his disposal but he must now find a way of coping without Fernandinho, who went from being out for a couple of weeks to three or four weeks in the space of a couple of sentences from his manager.
Even the finest teams suffer when injuries strike and Pellegrini will hope the absence of Fernandinho, Nasri and Aguero will not hurt too much in the weeks ahead and that Negredo is soon back to full fitness.
He must devise ways of coping without those key injured players. And if he does, City still have the weaponry to win the Premier League.
Mourinho will be picking and choosing his games carefully to deploy Chelsea's creative hub -Oscar, Willian and the brilliant Hazard.
He will also be working out how best to utilise David Luiz, Nemanja Matic, Jon Obi Mikel and Ramires.
Matic and Luiz worked perfectly on Monday to stabilise Chelsea's midfield. The giant Matic looked the photofit footballer for the holding role, the counterpoint to the flamboyant skills of Hazard, Willian and Oscar but with the skill and power to shape games.
This was Mourinho's night - but the quiet figure of Pellegrini will still believe he can have the last laugh against his old adversary.