Hearts: Billy Brown decision 'purely about cost' - BDO
Last updated on .From the section Football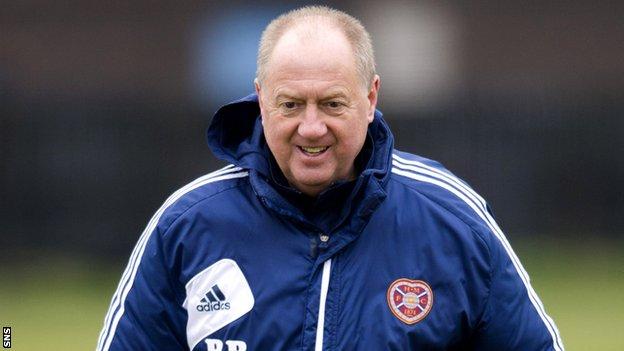 Hearts administrator Bryan Jackson insists that the original decision to dispense with assistant manager Billy Brown was simply to save money.
Administrator BDO performed a U-turn last month by extending Brown's contract, first by two weeks and then until the end of February.
"I have a very tight cash-flow situation," Jackson told BBC Scotland.
"Hence, I didn't initially intend to renew Billy's contract only because it was running out and no other reason."
It meant that Brown was able to be in the dugout beside manager Gary Locke for Sunday's Scottish League Cup semi-final defeat by Inverness Caledonian Thistle.
"I'm in a temporary role trying to hold everything together during the administration and it's very difficult because I don't know my timescale," explained Jackson.
"But, generally speaking, I try to make decisions for the short-term rather than the long-term.
"What happened was that the senior football players made a request to see me.
"They made a point for keeping Billy, particularly with the semi-final ahead, and I've got to give the football side every support I can.
"So that was why I thought, Billy's contract doesn't run out until the end of the month, I can't see any harm in extending it for another month.
"It is not a huge cost and if that's what the football management are requesting of me then I have to be seen to be supporting them."
There has also been some quarters of the Hearts support calling into question Locke's own position as manager with the team a long way adrift at the foot of the Scottish Premiership.
"Gary has a contract with the club and I'm there on a temporary basis, so it doesn't make sense for me to try to do anything about that even if I wanted to," added Jackson.
"And I have to say I'm supportive of Gary in any case, although I know there are maybe some split feelings on that now.
"But that's not for me to say. I am just there to hold everything together."