Celtic: Scottish Premiership club not punished for 'offensive' banner
Last updated on .From the section Celtic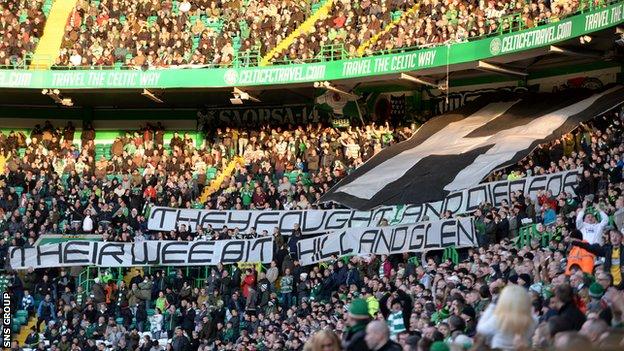 Celtic will not be punished for an "offensive" banner display from supporters, the Scottish Professional Football League has confirmed.
A large 'H' symbol - representing the Belfast's Maze Prison block - was on show against Aberdeen on 23 November.
The display at Celtic Park was deemed offensive and breached league rules.
However, Celtic were able to demonstrate that they had taken "all reasonably practicable steps" to prevent such an action.
The Maze Prison was used to house paramilitary prisoners and 10 Irish Republicans died in the H-Blocks' hunger strike in 1981.
A spokesman for the league said: "SPFL regulations forbid 'words or conduct or displaying any writing or other thing which indicates support for, or affiliation to, or celebration of, or opposition to an organisation or group proscribed in terms of the Terrorism Act 2000'.
"The SPFL found that the banner was offensive and breached the SPFL's rules. However, Celtic FC were able to demonstrate that they had taken all reasonably practicable steps to prevent the banner being displayed at Celtic Park.
"As a result, it was determined that there was no evidence of any breach of the SPFL's rules by Celtic FC.
Celtic were fined about £42,000 by Uefa over an "illicit" display during their Champions League clash with AC Milan four days later.
The European governing body's rules prohibit messages of a political and ideological nature being displayed in a stadium.
And the club warned that continued misbehaviour could see them play European games behind closed doors.