Whatever happened to the Livingston lads?
By Colin Moffat
BBC Scotland
Last updated on .From the section Livingston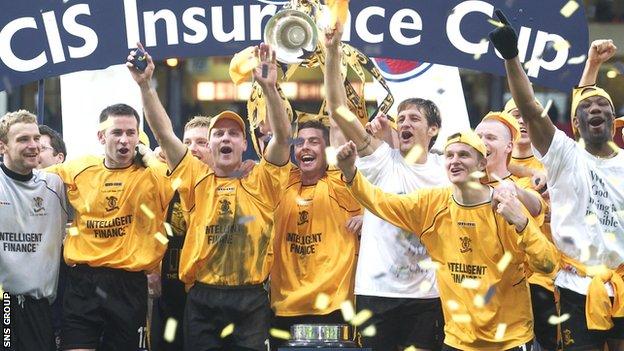 Stuart Lovell is kept very busy in his role as player liaison for PFA Scotland.
One deep sigh is enough to convey the union official's thoughts on the extra burden that has come his way with the advent of social media.
But the 42-year-old Australian has agreed to increase his workload further as he helps arrange the 10th anniversary celebrations of Livingston's finest hour.
Lovell was the captain when Livi's remarkable ascent culminated in the League Cup triumph of 2004.
And now he is on a mission to reunite the team for a charity dinner in March.
"There is a real motivation for the lads to come and that doesn't surprise me because we had a great team spirit," said Lovell.
"They know they were part of something special and they want to catch up with their old team-mates again. Some of the guys went on to bigger and better things but I think most will look back on it as the pinnacle of their careers."
Burton O'Brien will have been the easiest to recruit since the midfielder is back for a second spell with the West Lothian club but others have been more elusive.
Lovell explains: "David Fernandez is one of those where you'll get a brief chat with him then he'll disappear off the radar - usually for about three years!
"And some are in far flung regions. I haven't been able to speak to Fernando Pasquinelli but I'm hoping Oscar Rubio can track him down.
"Emmanuel Dorado has a daughter in Edinburgh, so he is a regular visitor. He had a difficult time when Pearse Flynn was running the club but I'm hoping he will recognise that it's a different regime now."
The French defender was sacked in 2006 after refusing a pay cut and had to wait two years for his contract to be settled.
It was a shabby way to treat a cup-winning hero and indicative of the troubles that have followed Livi since their day in the sun at Hampden.
Indeed, the singeing of the club's wings began when they plunged into administration just a few weeks prior to their 2-0 win over Hibernian at the national stadium.
"The build-up to the semi-final was very stressful," recalls Lovell. "We found out the day before we played Dundee at Easter Road that the club would be going into administration.
"No one really knew where they stood in terms of their future.
"There was a real sense of thinking this might be my last game for the club.
"We knew cuts were going to be made, we just didn't know where.
"We did lose players. I think a lot of people ignored the fact that we lost six team-mates the very next day."
Dundee were beaten thanks to a last-minute penalty from Derek Lilley, following tournament wins over Queen's Park, Dundee United and Aberdeen.
"Winning that semi-final was the key," recalls Lovell. "Cleary, there was prize money up for grabs and if the squad was decimated then you'd pretty much be writing off the final.
"The administrators took the view that they would leave the lion's share of the squad together."
Lovell, Dorado, Rubio and Pasquinelli all consented to a reduction in wages, along with Marvin Andrews and Alan Main.
And that meant a very good side remained intact, as a third-place finish on their SPL debut had demonstrated the season before.
In only the ninth year of the club's existence, Livi had beaten Hibs in the two league meetings prior to the final as well as winning at Tannadice and Pittodrie on their cup run, so the result was not quite the shock it may look on paper these days.
A Hibs side that included emerging talents Scott Brown, Gary Caldwell, Garry O'Connor, Derek Riordan and Kevin Thomson shaded the first half, with Andrews making a fine goal-line clearance.
But Lilley and Jamie McAllister banged in goals early in the second half to ensure it was black and gold confetti fluttering at full-time.
"We always fancied our chances if we were at full-strength," said Lovell. "We had a very good balance to the starting eleven.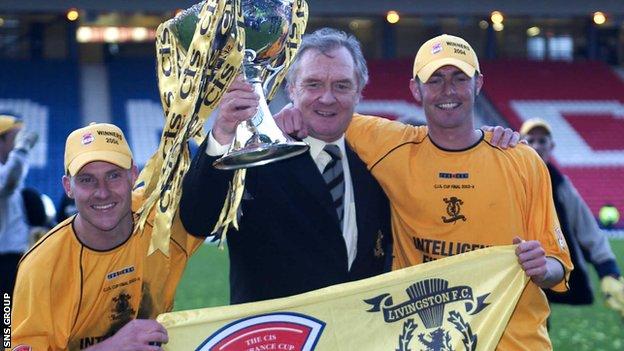 "The fact we were heavily outnumbered in terms of supporters didn't really make much difference.
"I've only recently watched the game again for the first time and I'm not sure we played to our best but we had 10 minutes at the start of the second half when Fernandez, in particular, clicked and we probably could have scored four goals in that period.
"After that, Hibs didn't really look like scoring."
Hampden was largely empty as Lovell went up to lift the trophy, but the 6,000 or so backing the Lions made quite a racket.
There was not quite so much revelry as an open-top bus journeyed through the near-deserted streets of Livingston but the players soon made up for that with a raucous night out in Glasgow.
The New Town club are back in the Championship after a second period of administration saw them demoted to the bottom tier in 2009, although an average attendance of just over 1,100 means the club have to be more realistic about their aspirations.
"You hear the clichés about it needing time to sink in and it does really," adds Lovell on the cup win.
"It takes time to put things in perspective but I think we all knew that Livingston is not the kind of club that wins domestic trophies every season, albeit they had been a very progressive club coming up through the ranks.
"I remember going along to a supporters' do at the end of the season and saying 'you need to enjoy this while it lasts' because invariably it won't. And the 10 years since has shown that. The club has been through the mill and hopefully they are on the way back up."
Livingston have packed an incredible amount into their 19 years and are still recovering from a memorable adventure that was in large part reckless.
However, that doesn't detract from the players' achievements and there are sure to be some great stories shared at that dinner.