John Terry: Why England need Chelsea skipper for Brazil 2014
By Luke Reddy, Andy Cryer & Jonathan Jurejko
BBC Sport
Last updated on .From the section Football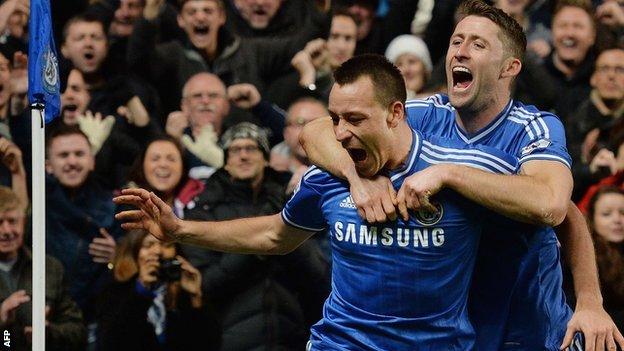 John Terry has been at the heart of the meanest defence in the Premier League this season.
The Chelsea captain has played in every minute of a league campaign in which his side have conceded only 20 times, and clamours for his return to the international set-up ahead of the World Cup are intensifying with every block, header and tackle.
With three Premier League titles, five FA Cups and a Champions League winner's medal to his name, the former England captain boasts club honours which dwarf the achievements of those in line to fill his void at Brazil 2014 - the first tournament since his international retirement.
That exit from England duty in 2012 followed off-the-field controversy, but having already captained his country in a World Cup, could the 33-year-old once again play at the highest level? And is he needed?
BBC Sport catches up with three former internationals to get their take on Terry, England and the prospect of a World Cup U-turn.
Is Terry England worthy on ability alone?
Ray Wilkins, former Chelsea, Manchester United and England midfielder (RW): He is the best English centre-half in active play at the moment. John is one of a kind in on-field play. He is a great organiser, he can look after his own job and can organise other players around him. As a player, that is exactly what England are looking for.
Pat Nevin, former Chelsea, Everton and Scotland winger (PN): Without even thinking about it for a moment, yes - particularly considering he has a ready-made partnership with [Chelsea team-mate] Gary Cahill. It is a no-brainer. He is an absolutely brilliant player. His reading of the game is as good as anyone.
Mark Lawrenson, former Liverpool and Republic of Ireland defender (ML): Absolutely, no question. There is not a better English defender around at the minute, not just for his ability and consistency but also for his organisational skills. It is a complete no-brainer.
Did you know? Of England's capped central defenders currently playing in the Premier League, only Terry, Stoke City's Ryan Shawcross and Cardiff City's Stephen Caulker have played every minute for their club sides in the league this season.
Would his inclusion cause a media circus?
ML: People say 'what about the press?' It doesn't matter about the press. If Roy Hodgson fails in Brazil the press will go after him anyway, so why should he be bothered? His thought is to take the best 22 players he can - and John Terry would be one of them.
All I would say to Roy Hodgson is that this could be your only stab at a World Cup as an England manager. So why would you not take the best English central defender? You forgive, but not necessarily forget with things like this.
RW: As far as John was concerned it would not bother him in the slightest. He would get on with it and perform to his usual high standards. Whether it would bother anyone else and whether others could ignore it, I don't know. John is a very strong character though.
PN: I would say he is possibly the most misunderstood man in football. If you meet him and speak to him he is precisely the opposite of the guy you expect to meet. Of course I am not saying he is perfect, but the portrait painted of him is nothing like him. I can only say as I find.
Did you know? Keeping possession is often cited as a key factor for success at any international tournament and Terry, with 89%, has the highest passing accuracy of the capped English central defenders in the Premier League.

Is Roy Hodgson considering a Terry return?
ML: We are not party to what happens behind closed doors. But if I was the England manager I would ship him in straight away.
PN: It will be crossing Roy Hodgson's mind. He has to look at the Chelsea defence and how many goals they have conceded. That is Cahill and Terry. Look at their performances week in and and week out against top strikers - they kept Edin Dzeko and Alvaro Negredo quiet on Monday. They are both in fantastic form and I am sure it will be crossing his mind. Will it happen? Probably not.
Did you know? Chelsea's clean sheet at Etihad Stadium on Monday ended Manchester City's run of scoring in 61 home league matches in a row. Manchester United hold the record - they found the net in 66 consecutive home league games.
Is Terry itching for an England comeback?
PN: It would be a brave move from all parties. I actually think England need John Terry more than John Terry needs England. It may be an extraordinary thing to say, but I don't think he needs it. He is doing really well for his club and I wonder whether he needs the hassle. I know he loved playing for his country, though. He was always unbelievably proud.
ML: Why would he not want to go to the World Cup? That's what you play for. I do not know if he feels he needs an apology, or if he needs to speak to somebody. But if the England manager comes to you and says 'I would love you to come to the World Cup', I think he would find it very difficult to turn down. Another factor is Chelsea are apparently only offering him another year's contract because of his age. But if England take him to the World Cup they might think that they should offer him a longer contract. That would be good for John Terry - all the power goes to him then.
Did you know? With Terry in the side, Chelsea have taken 10 points from a possible 12 against the Premier League's top four this season and have only conceded twice.
Will his Chelsea partnership with Gary Cahill prove telling?
PN: The affect he has on the players around him, particularly Gary Cahill, is extraordinary.
ML: Last season, under Rafa Benitez, we were led to believe that Terry had back and knee problems - but that hasn't bothered him under Mourinho. His partnership with Cahill has been excellent and only adds further weight to the debate.
RW: I must say Phil Jagielka has been doing a wonderful job for Everton and for his country. But seeing John Terry and Gary Cahill perform together like they are for Chelsea - playing superbly - it would be the natural progression to pair the two together.
Did you know? Phil Jagielka has made 38 interceptions and 177 headed clearances in the Premier league this season - more than any other player in both instances.

How would Terry be received by squad members?
ML: It does not make any difference. When you look around in the changing room before the first game against Italy and you have got John Terry there and playing well, I honestly wouldn't be bothered. Initially, there might be a few problems between him and players who were at the 2010 World Cup in South Africa, but it can be overcome. Stuff like that happens in football and that is the way it is. I do not see a problem.
Did you know? John Terry has made 27 interceptions in the league this season - more than double the figure made by Cahill, who has played 17 games to Terry's 24.
Conclusion
When quizzed on a Terry return in 2013, England manager Roy Hodgson called for people to "move forward" and heralded the performances of those who picked up the international mantle since his retirement.
Such a stance makes the doorway to international football appear closed. But with Uruguay's Luis Suarez and Italy's Mario Balotelli waiting to torment England's defence in the group stages of Brazil 2014, the prospect of Terry's inclusion could look enticing come May.
Premier League success and Champions League glory in the interim would strengthen calls for his inclusion. That is of course assuming Terry, who has shed tears in an international shirt before, wants the pressure, scrutiny and all too often dashed hopes an England World Cup campaign offers.