Manchester City v Sunderland postponed for safety reasons
Last updated on .From the section Premier League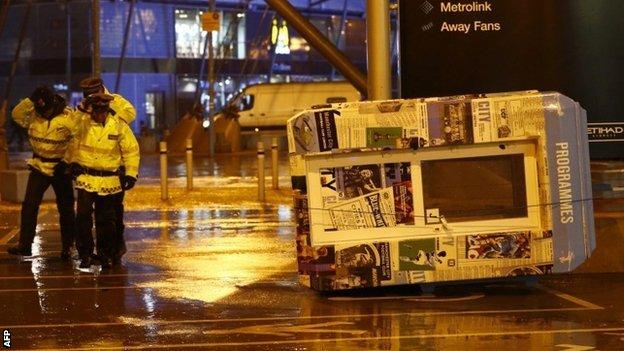 Manchester City's Premier League home game against Sunderland on Wednesday was postponed because of high winds.
City released a statement saying the game was "postponed due to exceptional and escalating weather", adding the safety of fans could not be guaranteed.
"This decision has been made by the safety officer and police," it added.
"Both managers and the match officials understand and support this decision."
City would have returned to the top of the table had they beaten Sunderland, and Arsenal failed to beat Manchester United.
The match was called off just over an hour before the scheduled 19:45 GMT kick-off and Blues boss Manuel Pellegrini supported the decision.
"The safety of the City and Sunderland supporters is the most important thing," he added.
"We were ready to play this game but the well-being of the people coming to the Etihad Stadium is paramount."
City captain Vincent Kompany tweeted: "Game's called off! Make sure you get yourselves home and be safe, weather is terrible."
Many Sunderland fans had arrived at the ground before the game was postponed but Black Cats manager Gus Poyet understood the reasons behind the decision to call it off.
"There had been too many incidents around the stadium and it would have been very difficult to maintain the security in terms of the fans and the approaches to the ground," he said.
"You can't really start delaying the kick-off with the danger of things getting worse, there were things flying around the stadium."