Corinthians players threaten strike after attack by own fans
Last updated on .From the section Football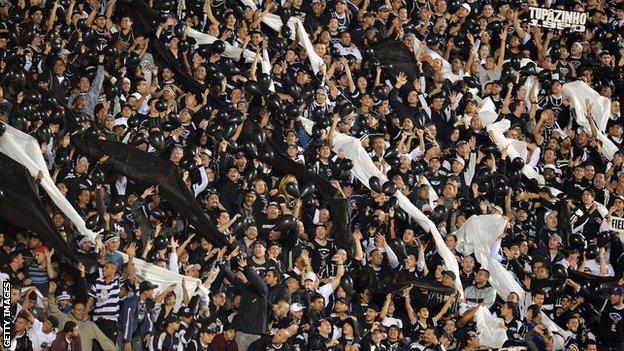 Players of Brazilian club Corinthians are threatening to strike unless they get protection - from their own fans.
A group of about 100 supporters, some armed with sticks and bars, broke into the training ground in Sao Paulo after a 5-1 defeat by Santos.
Peru striker Paolo Guerrero was grabbed around the neck and other players had money and mobile phones stolen.
"We Corinthians players demand that we get security in which to work in peace," a players' statement said.
"We publicly offer our support to an imminent strike proposed for this weekend by the professional players' union of Sao Paulo state in a bid to improve working conditions for the employees of the country's football teams."
Corinthians players believe more violence is imminent unless action is taken. The club says they are co-operating with the police and called on fans and media to help them identify the culprits.