Bans on two Malawi football clubs are further reduced
By Frank Kandu
BBC Sport, Blantyre
Last updated on .From the section Football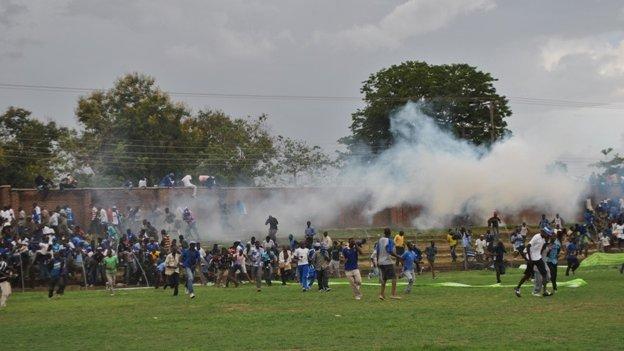 The Football Association of Malawi (Fam) has further reduced the punishments handed down to Silver Strikers and Mighty Wanderers after a second appeal.
Strikers' six game-ban has now been changed to the docking of nine points for the start of next season.
Wanderers, who were banned for four games, will now be docked six points.
Fam's appeals committee also reduced the fines given to the two teams - Silver ordered to pay US$3953 down from $6640 while Wanderers will now pay $1162.78 instead of $1620.
The committee found that the fracas was not solely the responsibility of the two teams.
"The panel is of the further view that the responsibility for the abandonment of the match should be shared by Silver Strikers, Mighty Wanderers, Super League of Malawi (Sulom) and the Police," read part of the judgement
The committee decided Strikers fans were in the wrong for inciting violence and Wanderers supporters for retaliating.
While Sulom took some of the blame for arranging the high profile match at a small stadium and the police for not handling the violence professionally .
This was the second time the sanctions have been reduced with Strikers' originally being suspended for eight months, while Mighty Wanderers were banned for five months.
The decisive league match on 28 December was abandoned in the 61st minute with Strikers, who needed just a point to be crowned champions, leading 1-0.
Fam upheld Sulom's decision to have the match replayed behind closed doors but now said the league's administrators should take responsibility for security.
In a previous ruling Fam put the responsibility of the security in the hands of the teams.
Reigning champions Strikers need just one point to retain their title but if they lose their final match then Moyale Barracks could win the title on goal difference.